How to activate automatic backups for your VPSBG server?
Backups are an important feature that can store information and data about your system and files for a longer period of time, allowing you to easily restore your server to a previous state. Therefore, it is vital that you know how to use this feature. That is why in this step-by-step tutorial we will teach you how to activate automatic backups for your VPSBG server.
Step 1: Log into your VPSBG account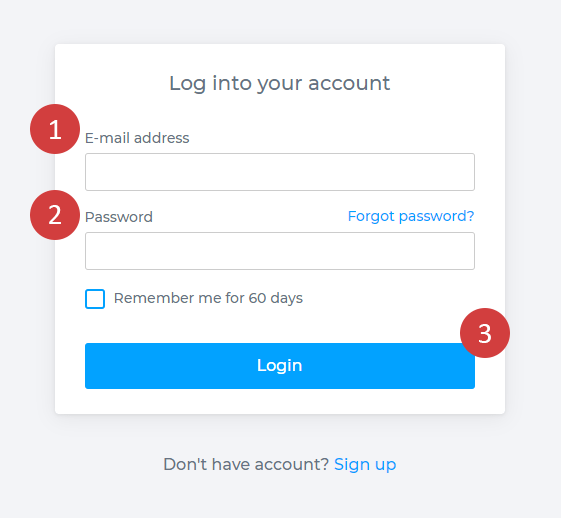 Input your username.

Input your password.

Press the 'Login' button.
Step 2: Navigate to your services from the dashboard
Once you have successfully logged in, you will arrive at your dashboard, the appearance of which should be like so: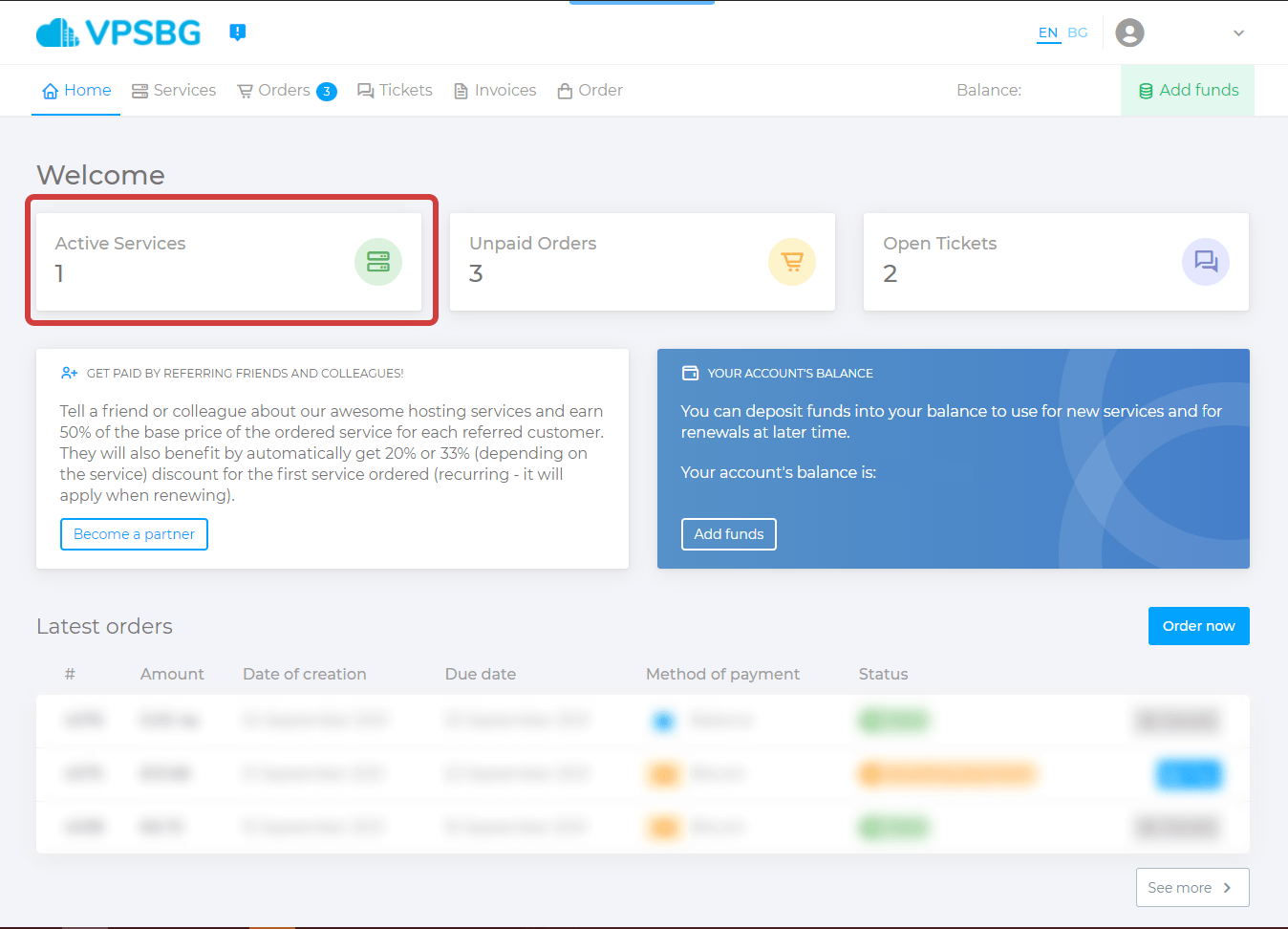 Once you are at this page, you want to click on the 'Active Services' button, which will take you to a page with a list of all of your services.
Step 3: Find the server for which you want to activate automatic backups

When you arrive at the services page, you can now locate the server you would like to activate the automatic backups feature for. Your active servers will have a status of 'Activated' and a specific server IP address under the 'service/product' section, which can aid you in ensuring that you have selected the appropriate server. Afterwards, what you need to do is to just click on the desired server (highlighted in red in the picture above).
Step 4: Arrival at the given Service's page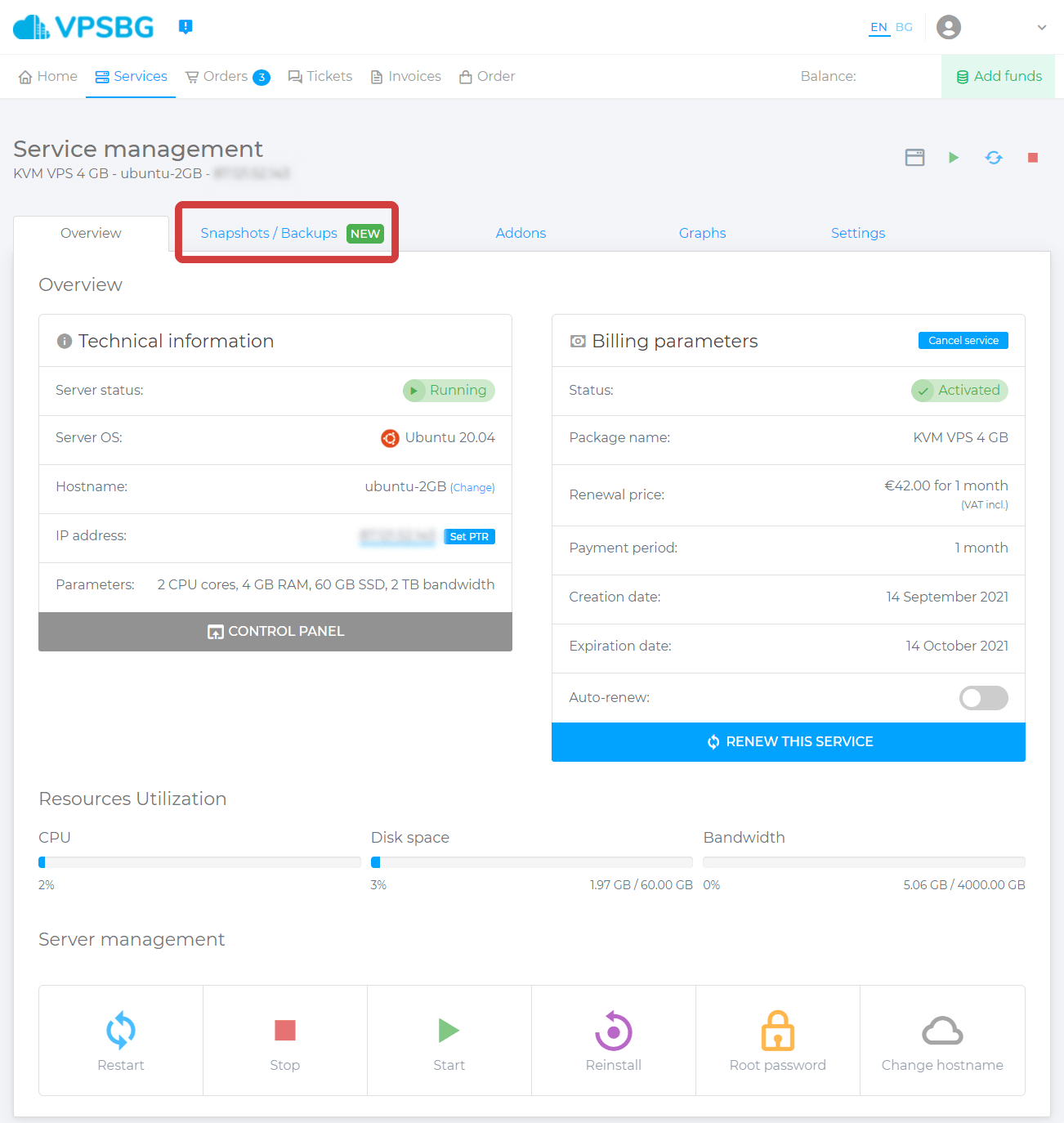 Clicking on a given service will take you to its dedicated page. Next, simply select the 'Snapshots/Backups' tab (marked in red in the picture above).
Step 5: Reaching the automatic backups page
When you click on the 'Snapshots/Backups' tab you will automatically arrive at the snapshots page. From there you want to navigate to the backups page, using the menu on the left, by clicking on the the 'Automatic Backups' button (marked in red in the image below):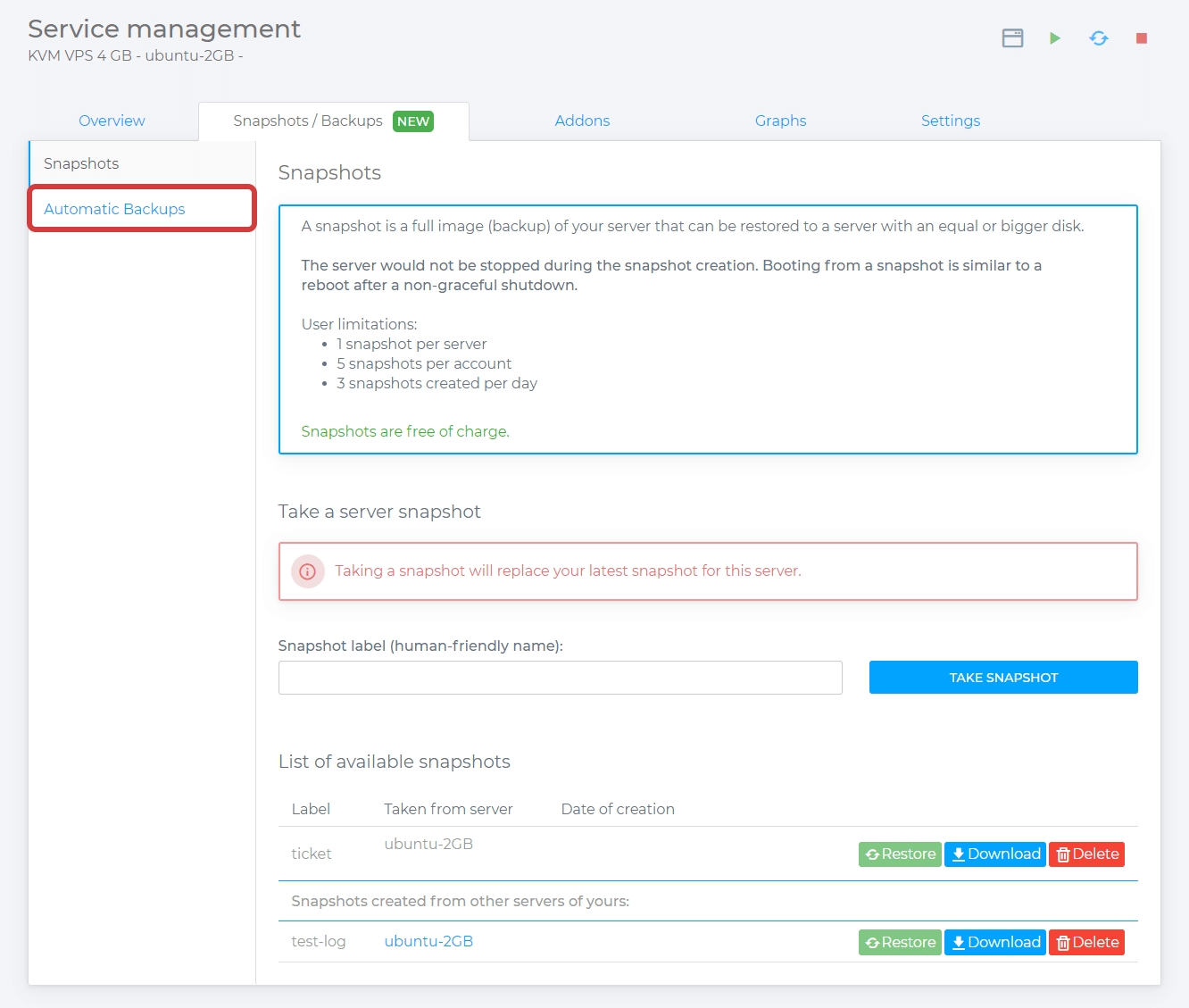 Once you click the button, you will arrive at the backups page which should look like so: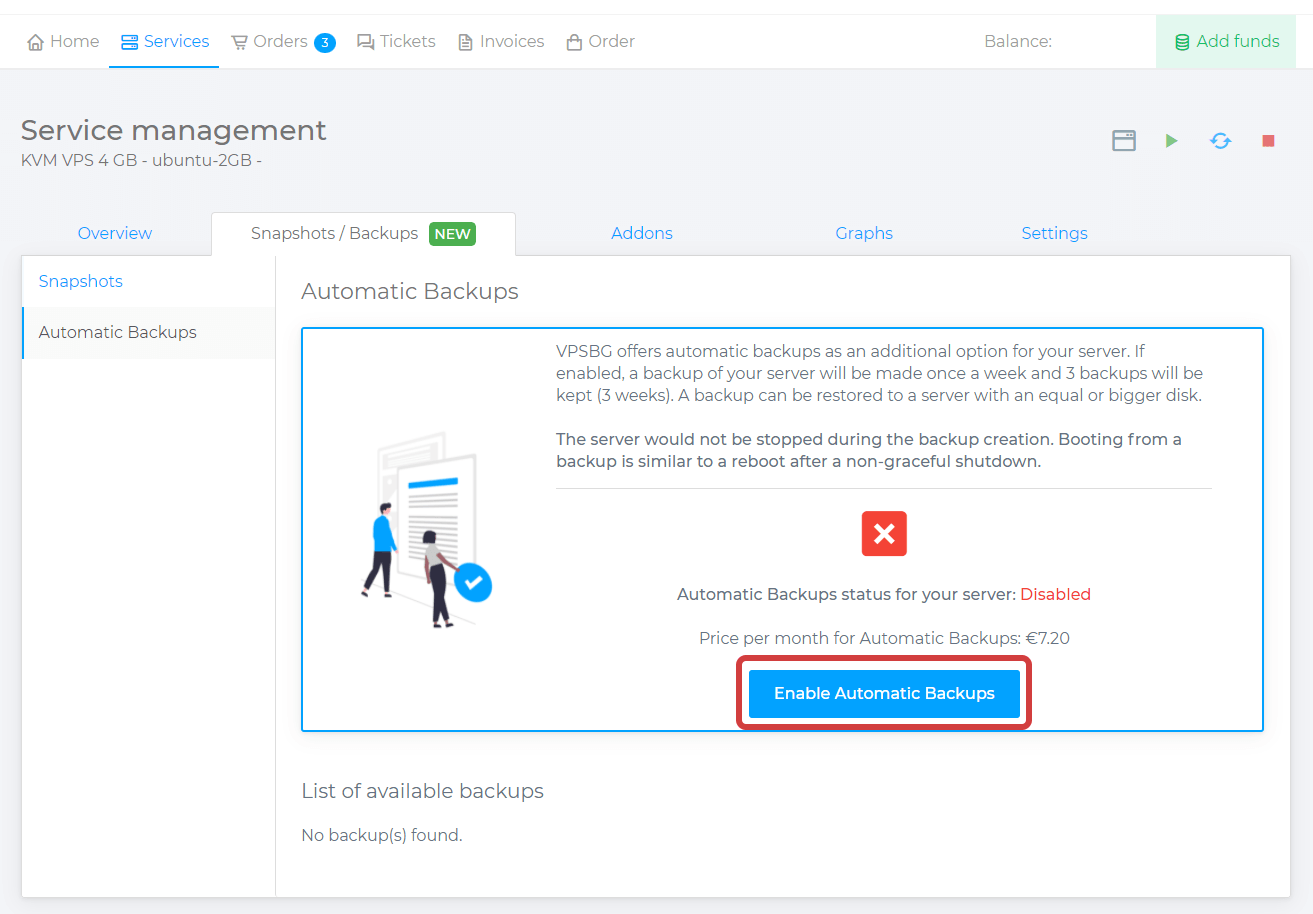 Step 6: Enabling automatic backups
This is the page from where you can activate, deactivate and manage the feature. In order to enable automatic backups, you just need to click the 'Enable Automatic Backups' button. It is important to note that the price above the button is automatically calculated by the following formula - 0.10 EUR multiplied by the storage space that your server has (based on your server plan) multiplied by the current amount of days left of your service divided by 30 and finally multiplied by the given tax rate. Furthermore, if your service is ending in less than 20 days, then you can activate the automatic backups feature for free. Moreover, it is also vital to know that if you have enabled automatic backups and you decide to opt out of the feature all of your backups will be deleted.
Step 7: Ordering the automatic backups feature
Our automatic backups are sold as a server addon hence why they need to be added through our additional products page. In order to activate the feature you need to select the 'Automatic backups' option. Afterwards, you will need to choose a payment method and click on 'Continue'.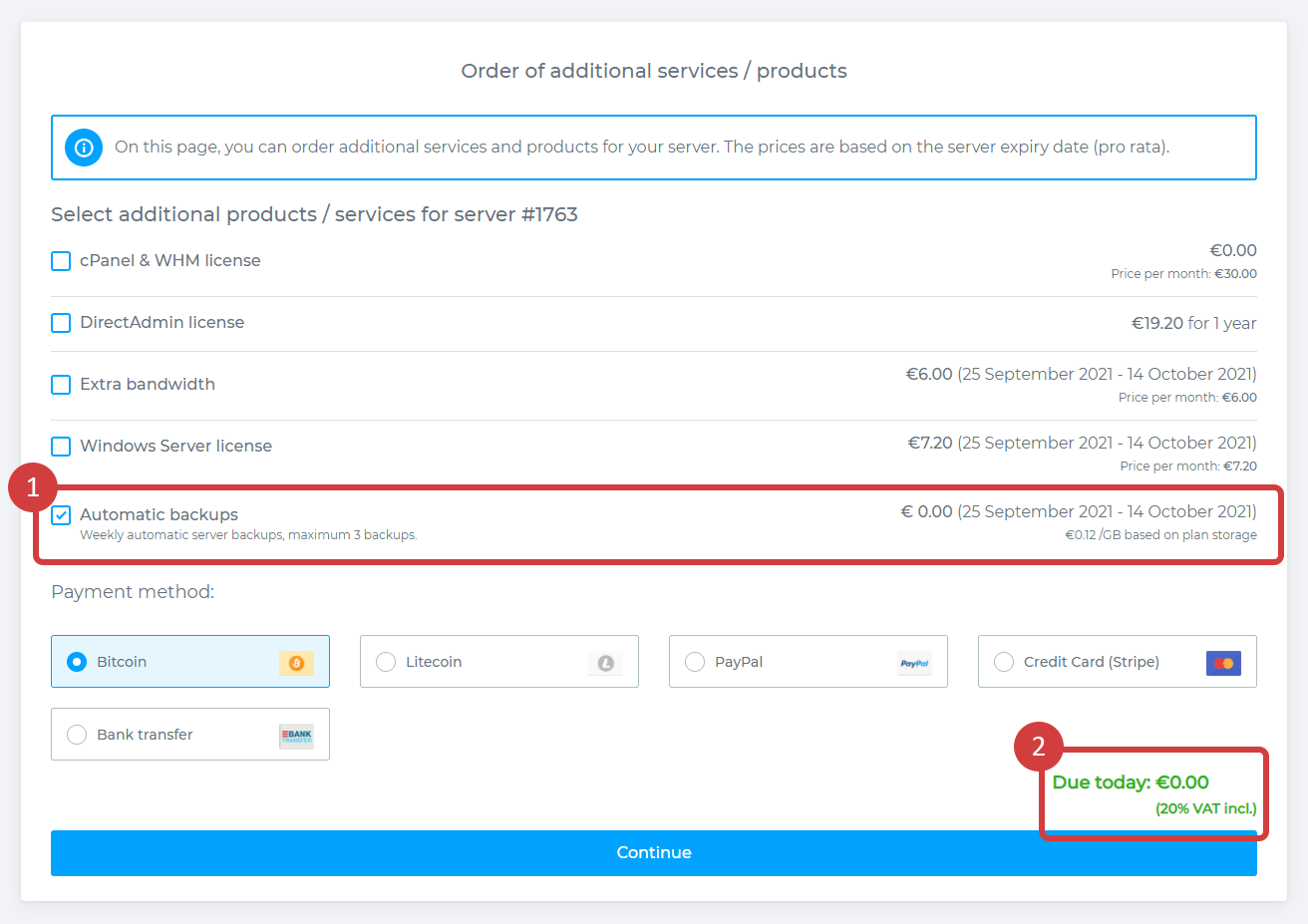 Select the Automatic backups option

Check the total amount due before you continue (The feature will be free if you have less than 20 days left on your service).
Step 8: Check the order information
Once you have selected the option and the transaction was successful, make sure you check the order confirmation in order to make sure that everything is correct.
Step 9: Check that the feature is activated
Finally, make sure to check that the feature has been successfully activated by going back to the automatic backups page. If the feature is active it should look like this: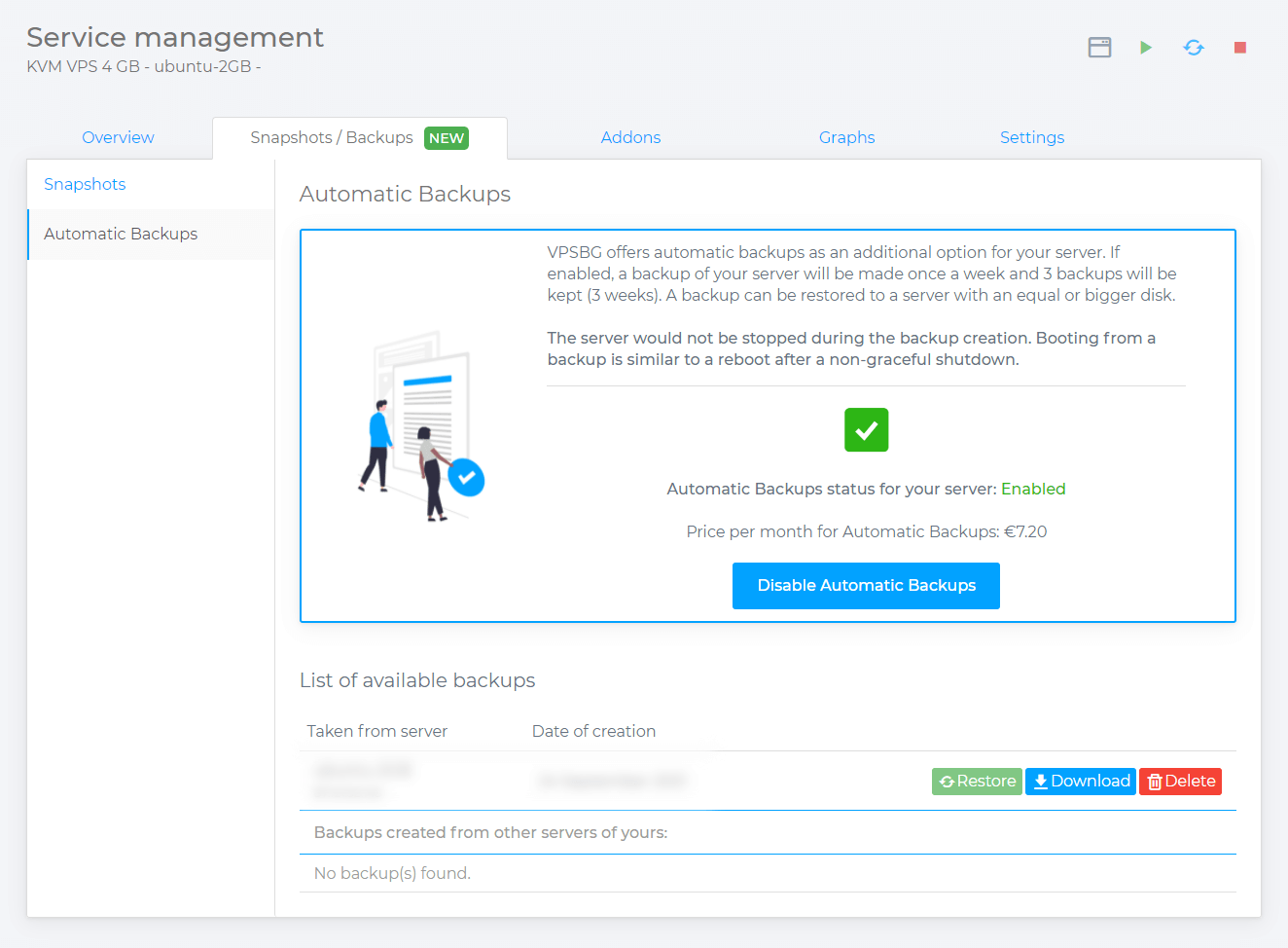 The status will be green and read 'Enabled' and your server backups should appear in the 'List of available backups' section from which you can restore, download or delete them. Also, keep in mind that a backup will be made automatically once a week with only 3 backups being kept in total, meaning that your oldest backup will be from 3 weeks ago.
That's it! We hope that this tutorial has helped you to successfully activate the automatic backups feature for your VPSBG server.