How to set up two-factor authentication(2FA) on your VPS.BG account
From our client area, clients can manage their services, reinstall them, change the root password, etc. It is very important that you keep your password safe. If you want to make your account more secure, you can enable Two-Factor Authentication on your account. This means that on every sign in our client area you will have to enter a 6 digit number additionally.
How to enable 2FA on my VPSBG account?
Sign in our client area and navigate to the My Profile page. Click on the 2FA Protection section and follow the instructions which are written in this tab.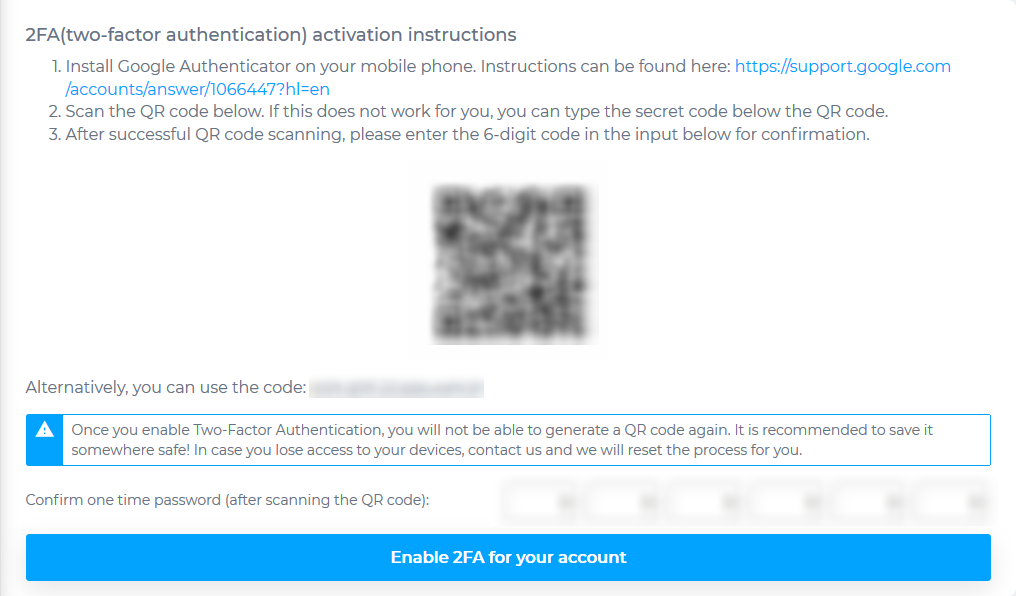 You will have to download 2FA mobile application - Google Authenticator or Authy.
Google Authenticator download URLs: Android, iOS
Authy download URLs: Android, iOS
Scan the QR code
You will have to scan the QR code provided on our website for your account and if the scanning is successfully you should see your VPSBG account in your application. Please enter the code provided from your phone in our website to complete the 2FA activation and press the button. If the activation is completed, every time you log on our website, you should enter your email, password and 2FA code.