How to set up an additional IP address on a Windows VPS or VDS
If you have bought an additional IP address for your Windows VPS or VDS, you will need to manually configure it within the Windows platform. It is important to mention that your additional IP will be automatically activated upon making a successful purchase, meaning that you will only need to configure the address afterwards.
If you have not yet got an extra IP address, you can do so by visiting our client area.
Connect to your Windows Server through RDP
Before you can configure the IP address, you will need to log into your Windows cloud server through RDP and by using the main IP of the server. Making sure that you are establishing a connection through the main IP is crucial if you are going to be adding multiple addresses.
You will also need to have all of the information relating to your IP address including the IP itself, the gateway IP and the subnet, which you will have received when you bought the additional address.
How to assign an additional static IP on Windows
Firstly, you need to type 'control panel' in Windows search. Click on the control panel option and then select 'Network And Internet' as illustrated below: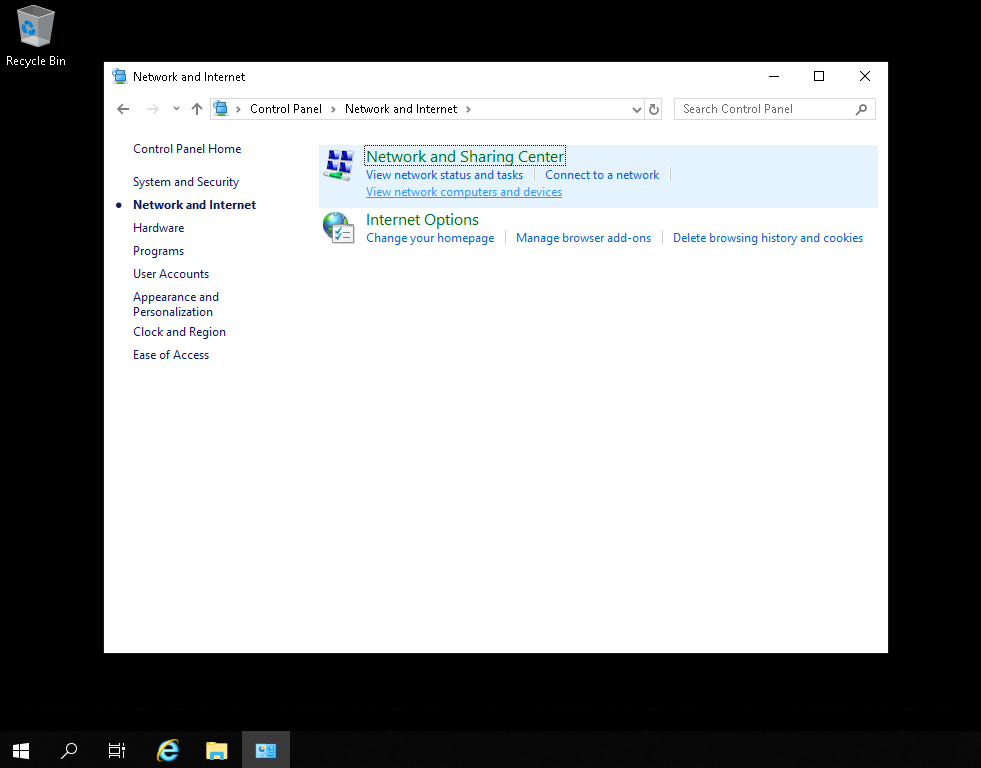 Secondly, click on 'Network And Sharing center'. Next, click on the 'Change adapter settings' option, which will be located in the menu on the left side. You should see one network adapter like so: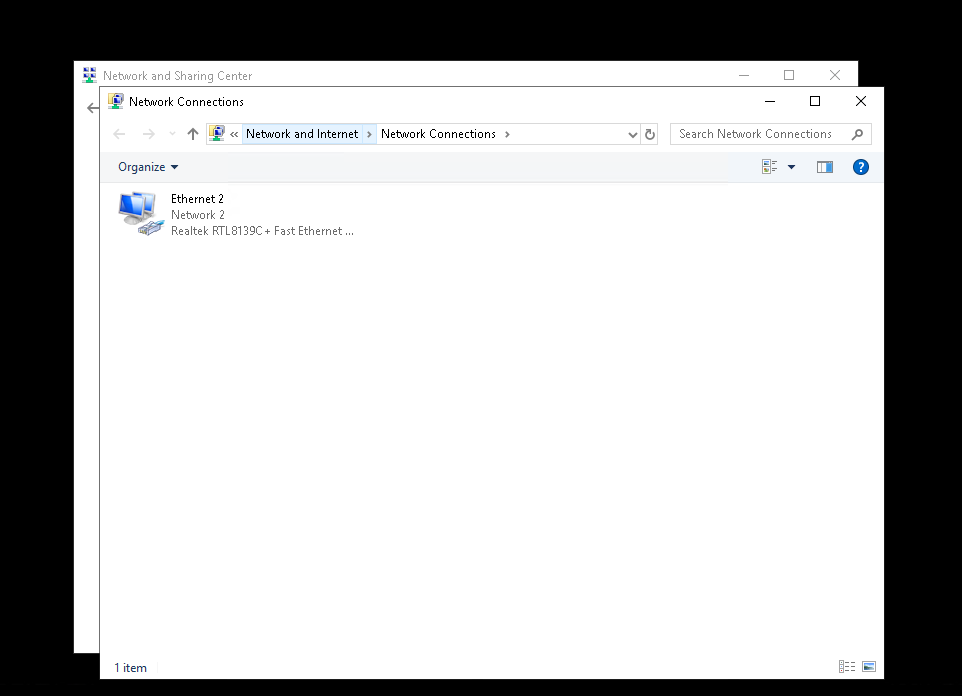 Right-click on this network adapter and select 'Properties'. Then go to the 'Internet Protocol Version 4 (TCP/IPv4)' option and click on the 'Properties' button.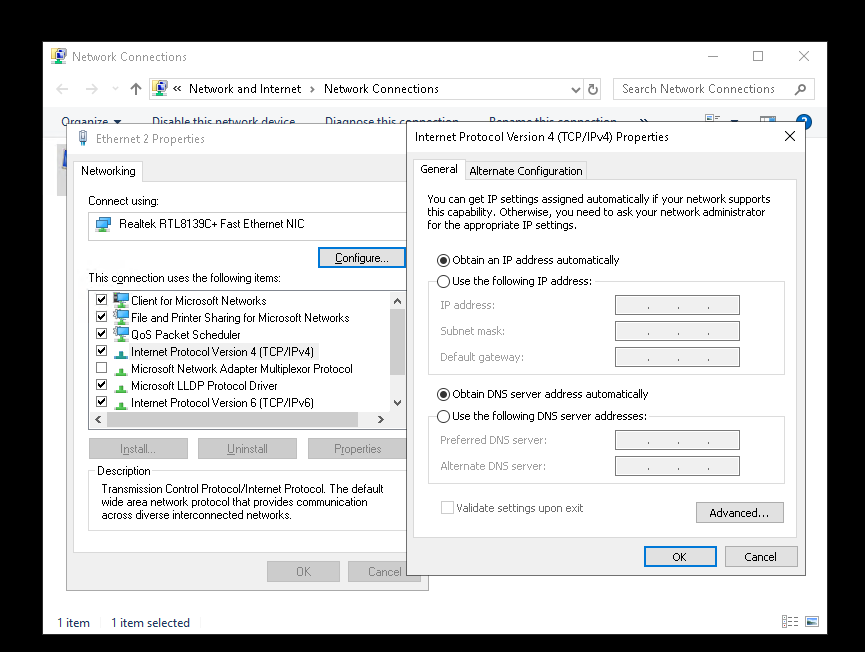 From here, select 'Use the following IP address' and click on the 'Use the following DNS server addresses' button. This is where you are going to manually enter and set up your IP address statically. Prior to this, the IP address was provided by DHCP. Enter your IP address in the first field, your subnet in the second and the gateway IP in the third. For example, if your IP is 87.121.52.91, you will need to enter this IP in the first field. In the second you will need to input: 255.255.255.0 and in the third - the gateway IP, which in this case is 87.121.52.1. We also recommend using Google's DNS servers (8.8.8.8 and 8.8.4.4). You configuration should look similarly to this: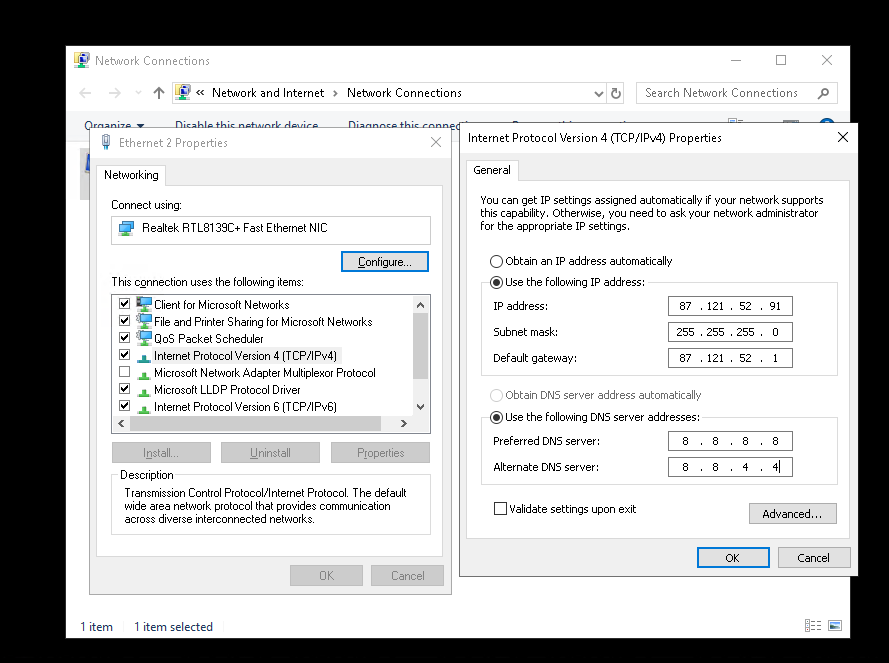 Next, click on the 'Advanced' button. This will open up a new window. Click the 'Add' button in the 'IP addresses' section. This is where you can enter the information about your additional IP address including the IP and the subnet. For example, we will add the IP as 87.121.52.90 and the subnet as 255.255.255.0.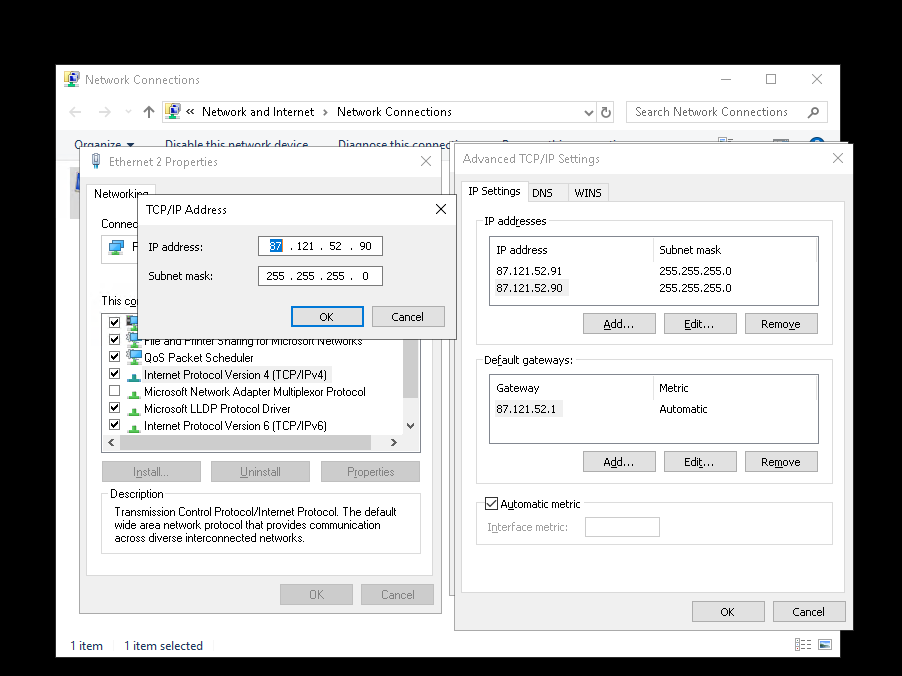 Finally, click 'OK' several times and close everything once finished. Your connection to the server will be interrupted for a few seconds, but you will then be reconnected if everything has been set up properly.
That's it! You can now use your additional IP address! If you happen to experience any difficulties during the setup process, you can always contact our support team!