Windows VPS in Europe vs North America - OS Popularity & Features
Windows-based VPS and VDS servers have been slowly gaining more and more popularity over the last few years. Despite having been around since 1993, it wasn't until 2003 when the current Windows Server as we all know it, got its name. Since then, there have been multiple different variations including 2008, 2012, 2016, 2019 and of course, the latest introduction - Windows Server 2022.
Windows-based virtual machines do come with their own set of advantages and their recent growth has been fascinating to see. One of their biggest strengths is the fact that many users are already familiar with the user interface and the operating system in general due to its popularity with a vast majority of personal computers running on Windows.
Another benefit of the OS is the fact that it is run by Microsoft, which consequently brings authority and added security.
These are just some examples of factors that people consider when choosing between a Windows and a Linux-based server. However, with the recent growth of Windows server's popularity, we wanted to know if Windows cloud servers are actually becoming more popular than their Linux counterparts as well as whether that trend was different when comparing 2 of the major server-consuming regions - North America and Europe.
In order to satisfy our curiosity, we decided to create a survey that would help us determine the popularity of Windows Server in Europe (EU) and in North America (NA) as well as why people are choosing to go for a Windows VPS or VDS.
Survey structure and questions
We created a survey consisting of 3 questions. The survey was offered to both our North-American and European customers regardless of the operating system that their server was running on. The first question asked the participants to state whether they prefer using Linux or Windows as their server's operating system.
The other 2 questions were only presented to those users who stated that they'd rather utilize Windows Server. The second question in itself asked participants to rank some of Windows Server features based on importance, while the third question was aimed towards gaining a more broad understanding of what those participants looked for in a hosting provider in general.
The correlations could then be used in order to draw general ideas and suggest potential links between the given answers.
Participation in this survey was completely voluntary - no rewards or benefits were offered to any of the participants. No personal information was collected. When completing the survey participants were only asked whether they were a resident of a North American or an European country.
Linux vs Windows VPS in Europe and North America
As mentioned previously, the first question in the survey was intended to check whether Windows Server's popularity was growing when compared to Linux. In addition to giving us a broad overview of both operating system's popularity in both continents, this question would also help us sift through the user responses as we'd later on like to survey only those participants that either already have or want to start utilizing a Windows cloud server.
Hence why our first question was whether the participants would rather use a Linux or Windows Server as an operating system for their cloud server. The following graph represents the answers of our North American users: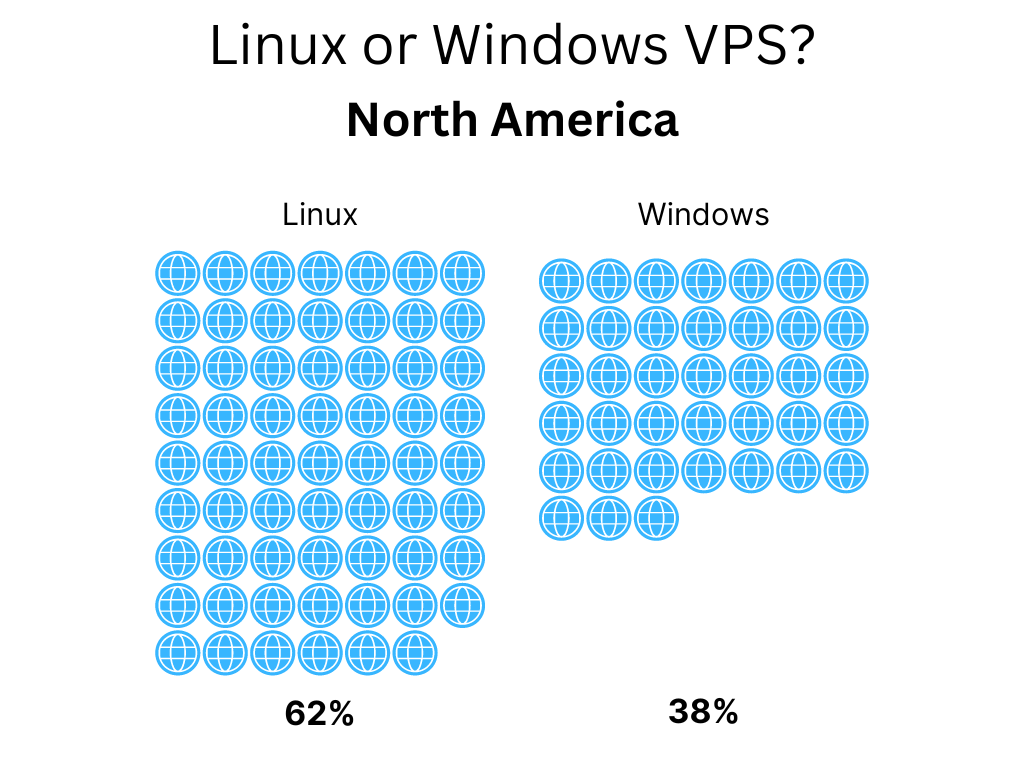 Figure 1: Linux or Windows VPS - North America
As it can be seen in figure 1, 62% of all participants stated that they prefer having a VPS with Linux as an OS in comparison to the 38% who'd go for Windows. While still being about 24% apart, this data does show that Windows VPS servers in North America are gaining more popularity, with a larger number of people being interested in them.
The results in Europe, however, show a much closer disparity: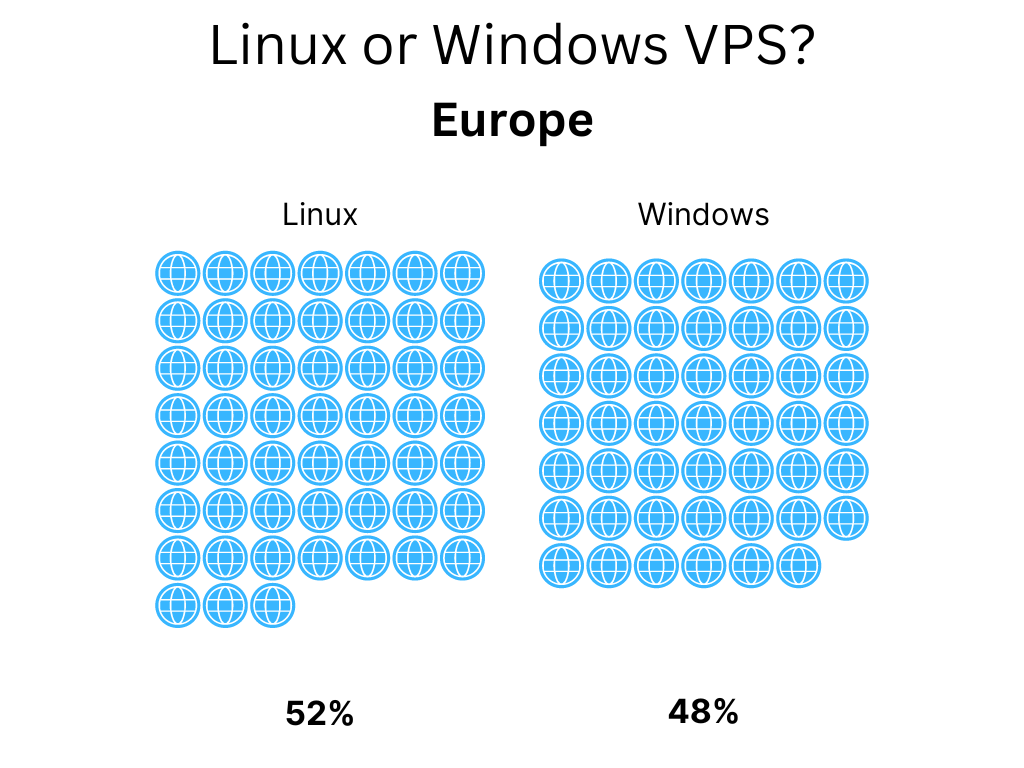 Figure 2: Linux or Windows VPS - Europe
As evident in figure 2, 52% of European users stated that they'd prefer getting a Linux-based cloud server, which is nearly a 50/50 split. These results were quite surprising when comparing them to NA user responses, with the trend showing that Europeans have a greater affinity for Windows as an operating system.
While Linux does remain the staple when it comes to cloud hosting and operating systems, it is clear that Windows Server users are increasing in numbers on both continents.
But why are Windows servers so popular in Europe?
In order to find the answer to this question, we need to delve deeper and evaluate the results from the other 2 survey questions.
Ranking the Advantages of Windows Cloud Servers
The next 2 questions were only presented to those users who stated that they use or they'd like to utilize Windows Server.
For our second question, we wanted to see how participants from both continents would rank some of the most important features and advantages of Windows Server in order to try and figure out why the operating system was more popular in Europe.
Participants were asked to rank each presented feature from 1 to 5 based on how important each feature was for them. Here are the overall results: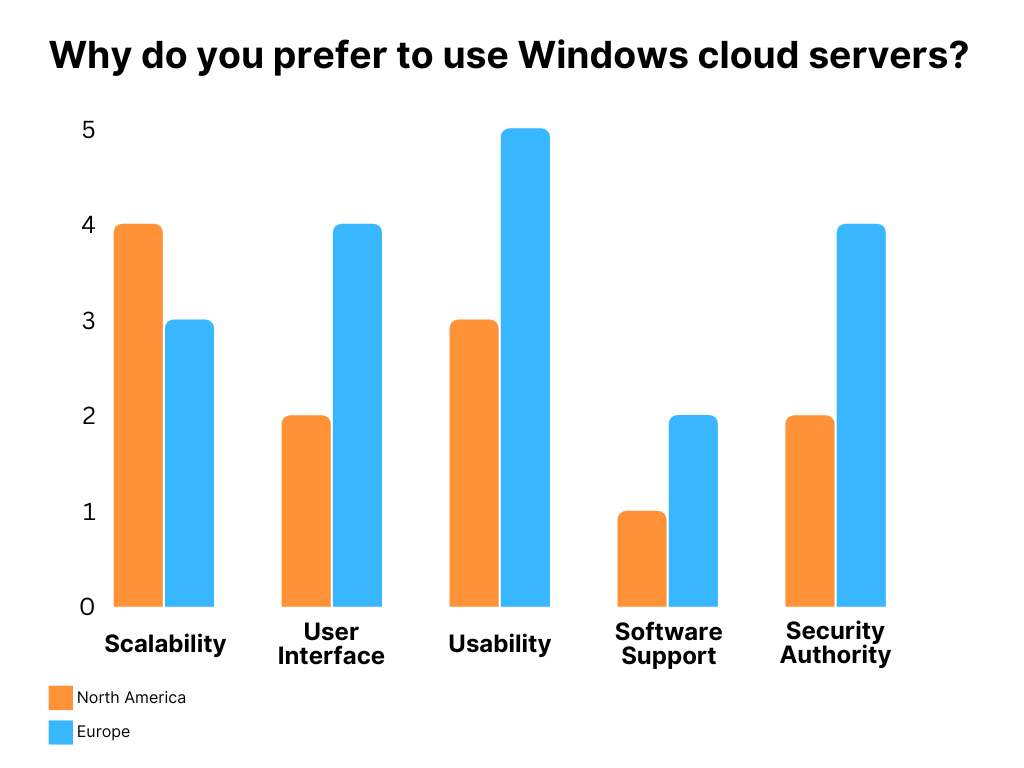 Figure 3: Why do you prefer to use Windows cloud servers?
Scalability
The first feature that they had to evaluate was scalability. The results show that North American users value the ability to upscale quite highly, making it the highest ranked feature on the list for NA. But why is that?
This could be due to the fact that businesses over in the western continent are greatly focused on cloud technologies with North America being the birthplace and the home of many cloud giants.
Additionally, NA companies can also experience large influxes of traffic and subsequent growth, which require more resources in order to be accommodated. Hence why scalability is one of the most important factors when it comes to choosing a virtual server and an operating system.
European customers, on the other hand, also didn't neglect scalability and gave it an overall score of 3, putting it in the middle of the table. While important, however, it was not the leading factor that Europeans take into consideration when choosing a Windows cloud server.
User Interface & Usability
This is one of the features where a distinct difference between the 2 groups of users can be seen. European participants gave UI an overall ranking of 4 in comparison to NA participants, which gave user interface a 2.
However, it is also important to also discuss usability as well due to the fact that both features go hand in hand. Unsurprisingly, EU gave usability maximum points, whereas North-American participants only ranked it at 3. But why?
As we mentioned earlier, software familiarity plays a pivotal role when it comes to choosing an operating system. This applies to not only Windows, but also the different Linux distributions that can be found on the Web. However, in this particular case, the results from the European participant's answers show that EU values usability as the most important factor when selecting a Windows-based cloud server.
While it is impossible to make broad conclusions from a single question, this could potentially show that EU participants like to go for Windows as an operating system due to the easier server management with the help of the user interface and general experience with the operating system.
Additionally, Windows Server is also much more beginner-friendly than Linux, which could be a hint that there are many newcomers to the hosting world from Europe that are looking to get a server for both personal and professional needs. However, this is only a hypothesis and further research is required in order to put these potential claims to the test.
Additional Software
In addition to Windows Server, many providers that are official SPLA partners, like us at VPSBG, also offer extra Microsoft licenses such as Office 365 and RDP access. However, both EU and NA participants state that such additional software is not the primary reason why they'd go for a Windows-based cloud server, giving it 1 and 2 respectively.
Security & Authority
The results from the final feature, however, are quite interesting. European participants valued security and authority higher than those from North America. This could be due to the fact that privacy and security are highly valued in Europe. As a matter of fact, some large tech companies from the western continent have been fined multiple times by divergent EU country governments for breaching customer privacy, collecting and reselling data.
This is particularly interesting as many Linux distributions are entirely free and open-source, coming equipped with a number of additional security features. One would think that when discussing security and data protection, European participants would instead rather go for a Linux-based cloud server. However, that is not the case.
Perhaps EU participants rely on the authority of Microsoft as a brand and value the security that they get with each system update? This is just another claim that needs to be put to the test, as we cannot afford to draw out general conclusions due to our survey's limitations.
Additionally, there could also be another hidden correlation. Let's take crypto for example. Cryptocurrencies are one of the best ways to protect your privacy online, allowing you to use them as an alternative payment method.
Over the last couple of years, Europe has been slowly starting to adopt cryptocurrencies and crypto transactions, which are more privacy-friendly. However, the global cryptocurrency adoption rates show that countries from North America are far more open to using crypto not only as an investment but also as a means for making transactions.
Due to the fact that crypto is more accepted in NA, people tend to forget about the additional benefits that it brings and start using it as an everyday substitute to conventional payment methods. Similarly to the results from our survey, it could be possible that North-American participants evaluated security and authority lower as they are used to having both with a Windows Server on a regular basis.
What to look out for in a hosting provider
The final question that we asked the Windows-favoring participants from both continents was to rate what they were looking for in a hosting provider in general in order to evaluate whether there were any additional correlations as to why they'd go for a Windows-based cloud server: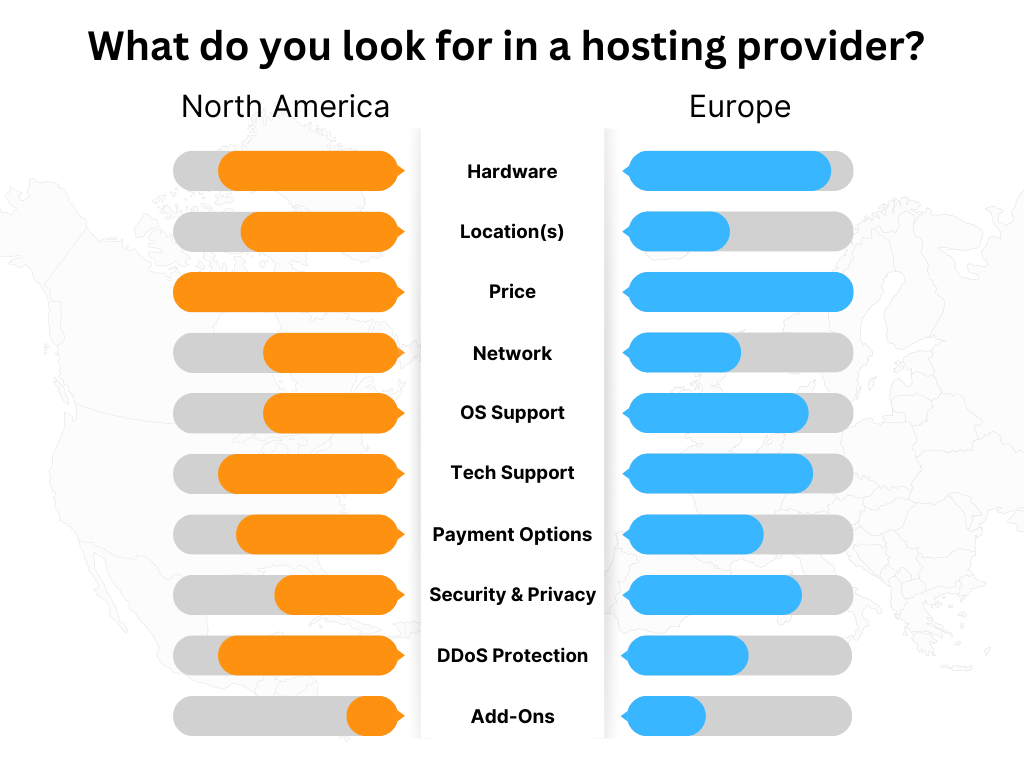 Figure 4: What do you look for in a hosting provider?
As expected, the most important factor when choosing a hosting provider for both EU and NA users was of course the price, followed by server hardware as well as the quality and response time when it comes to technical support.
However, what is interesting is the fact that EU participants rated server location much lower than those from North America. The reasoning behind this is actually really simple. While Europe does consist of many individual countries, they are geographically located really close to each other, making it much easier to select a hosting provider, which is also why the network feature has also been rated lower.
In North America servers can be located on both coasts of the continent, which can have a major effect on connection speed. While technology and connectivity have both improved drastically over the last decades, it is still better to choose a server in a location close to your targeted audience if you are going to be running a local website and a place with great global connectivity if targeting the international market.
Another interesting result, which goes on to support the claims from the second question, is the fact that European participants rated security and privacy much higher than those from North America. This further goes to show that privacy in Europe is a leading factor when it comes to choosing a hosting provider.
Additionally, the difference in payment option diversity when comparing the answers from both EU and NA representatives can also be used to support the claim that crypto payments are more popular in the western continent than in Europe.
What is particularly interesting is the fact that EU participants rated OS diversity quite highly. This could indicate that Europeans could be trying out different operating systems in order to find the exact one that fits them. It could also be due to the fact that a vast majority of servers run on different Linux distributions and EU is looking for providers that can offer a Windows VPS or VDS.
Conclusion & Results
Based on the results from our survey, we can conclude that Windows cloud servers are continuously gaining popularity. Windows VPS and VDS servers are more popular in Europe due to benefits of the operating system such as an user interface, overall familiarity and easy usability. Europeans also rate Windows Server highly due to the security of the OS as well as the authority behind the brand.
Europeans are also greatly interested in protecting their privacy. This poses a question of why aren't they utilizing a Linux distribution as an operating system, which is an area that needs to be further explored.
Limitations
The results are based on the input of our customers. It is important to mention that we are a privacy-oriented company - we don't use any third-party cookie anywhere on our website. We accept crypto payments and have our own personal Bitcoin payment processing implementation. We also don't require KYC verification. This could potentially have an impact on some of the data and results above.