How to create and download a website backup through cPanel
Regular backups are crucial if you wish to avoid any damage to your website. This can protect you from hackers, server failure and any other potentially harmful issues that can have a negative impact on your website or application.
Because of this, we at VPSBG offer free daily backups for all of our shared hosting plans! Each backup is retained for a period of 14 days, but we highly recommend downloading and storing each archive on your machine or on a separate device so that you can have a wider range of backups to choose from.
In this tutorial we are going to show you how to create and download a full archive backup of your website through cPanel.
How to download a full backup through cPanel
Firstly, you need to log into your cPanel. To do this, navigate to your domain or subdomain, followed by '/cpanel' like so:
'mydomain.com/cpanel'
With our shared hosting services, you can also log into cPanel through your VPSBG client area. Next, go to the 'Services' section and select the service which you would like to access. Then, go to 'Details' and click on 'Control panel' as illustrated in the following image: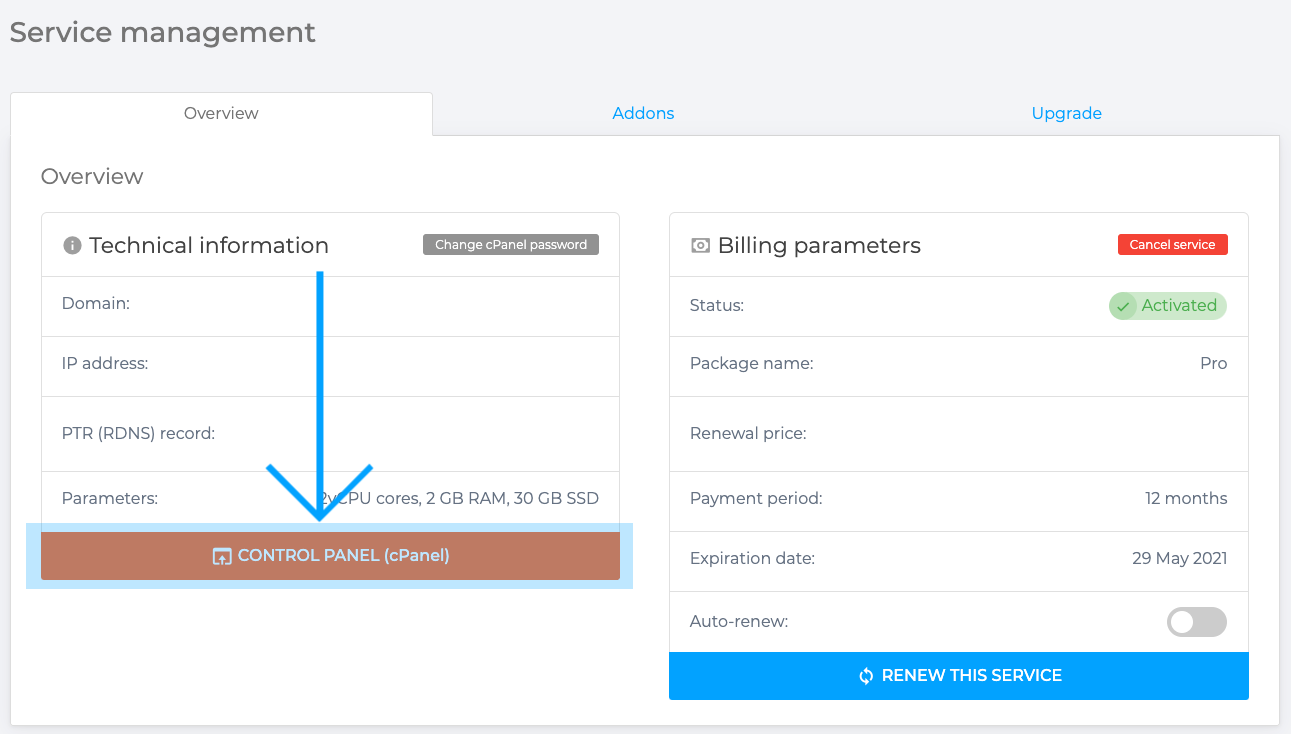 After you have successfully logged in, go to the 'Jetbackups' tab and click on 'Full Account Backups' as shown:

You will then be presented with a list of all available backup archives that have been automatically created for your website. From here, select the archive that you would like to download and click on the 'Generate Download' button like so:

Once you have clicked the generate button, you will be shown a new window, which will be requesting confirmation and you will need to click on 'Add to Download Queue'. When the request has been processed, your backup will begin to download. This can take quite some time, depending on the size of your archive. You can manually monitor the process by going to the 'Queue' section of the Jetbackups tab on the cPanel main page.

When the extraction has been completed, you will be able to download the archive from the same page. All you have to do is to click on the 'Download' button.

How to generate an instant backup
In some cases, you might want to instantly create a backup of your website due to reasons such as testing or content issues. In order to create an instant backup you need to log into cPanel and then select the 'Files' tab. From there click on 'Backup':
Next, click on the 'Download a Full Account Backup' button on the newly opened page and you should be presented with the following section:
You can then select the download destination for your backup with some of the possible options being:
a local folder or in your /home directory
an external server through FTP
SCP
You will need to enter additional information such as remote connection details depending on the directory or method that you wish to utilize.
You also have to enter your email so that you can be notified when the backup has been completed and is ready for download.
IMPORTANT: Please, keep in mind that creating a backup archive will require approximately the same amount of disk space that you are currently using. The exact size cannot be determined in advance due to the different compression ratios. Because of this, it is important to ensure that you have the needed space.
If you encounter any issues or have any further questions, you can always contact us!