What is Floating IP and how to order it?
In this article, we will discuss in detail what is Floating IP, how it can be useful for your business, and how such IP can be ordered through our client area. Let's dive in.
What is Floating IP?
Easily said, a Floating IP is a publicly accessible IP address that can be transferred over your VPSBG servers easily with just a few clicks. For OpenVZ-based VPS servers, it is not even required to reboot the server in order to apply the changes. The KVM VPS and Dedicated Instances require a reboot every time you want to attach or detach an IP address to it.
One of the main purposes of Floating IP is the possibility to minimize downtime and create high available infrastructure. This can be easily achieved with Floating IP because an IP address can be transferred to a backup server and your business will be up and running again. The main thing here is to keep your backup server up to date, e.g. configurations, files, data, etc. If you have everything that you need on your backup server, then the downtime will be just the time needed to transfer the IP address, close to zero.
How to order a Floating IP?
Ordering Floating IP is done easily through our client area. Navigate to Services and click on the button Order Floating IPs. A new page will be opened where you will have to select several things.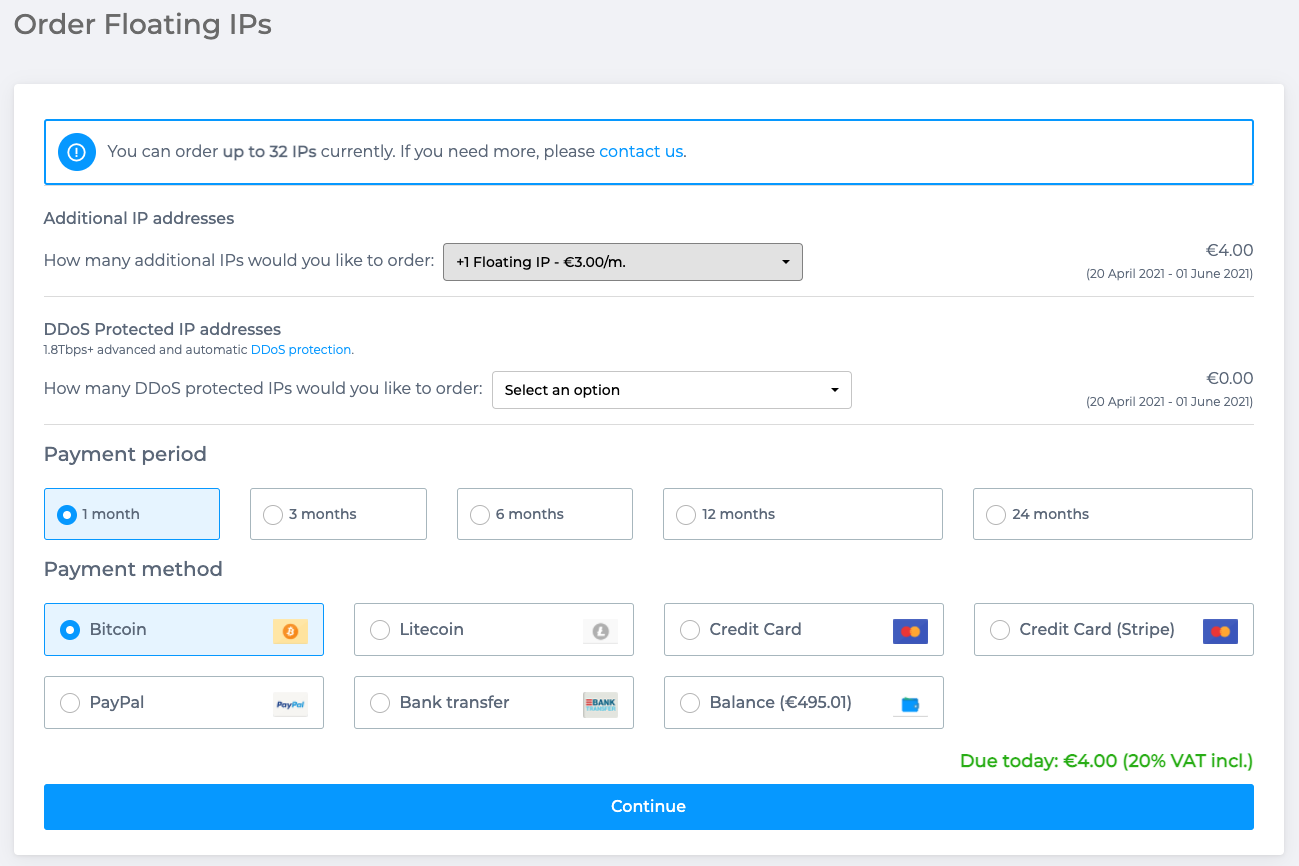 You have to select how many Floating IPs and DDoS-protected Floating IPs you wish to order. The default limit per account is 32 Floating IPs total. This limit can be lifted, just submit a new support ticket. Then select a payment period, payment method and press Continue. 
After successful payment of the order, your new IP addresses will be automatically assigned to your account. You can manage them from Services > Floating IP tab. It looks like this:

That's it. If you have any questions regarding the Floating IP, do not hesitate to contact us.