Increasing our server bandwidth
We at VPSBG are happy to announce that as of today, we are increasing the bandwidth for our KVM VPS, VDS and dedicated VPN servers! Here is a recap of the changes as well as the new and improved server plans.
KVM VPS hosting plans revamped
We understand that having enough bandwidth for your hosting needs is absolutely crucial. Because of this, we are enhancing the bandwidth for all of our KVM VPS server plans!
Our first 2 plans have gone from having 2 and 3 TB available per month respectively to an improved 5 TB/mo!
Next, our 8GB server plan has also more than doubled, going from 4 TB/mo to a whopping 10 TB!
The 16GB KVM VPS server option has also increased its bandwidth, more than tripling it - from 6 TB to 20 TB per month!
But that is not all, all of our other KVM VPS servers have now been upgraded to have a 30 TB/mo total bandwidth!
Finally, we are now also offering you an option to get 100mbps unmetered traffic for any KVM VPS servers plans above 8GB! However, there is even more! You now also have the opportunity to get 1gbps completely unlimited bandwidth for the price of 450 EUR per month!
Dedicated servers also updated
We know the value that a dedicated server brings for your personal projects or your business. Hence why our dedicated instances are also seeing some favorable changes, as their bandwidth is also going up!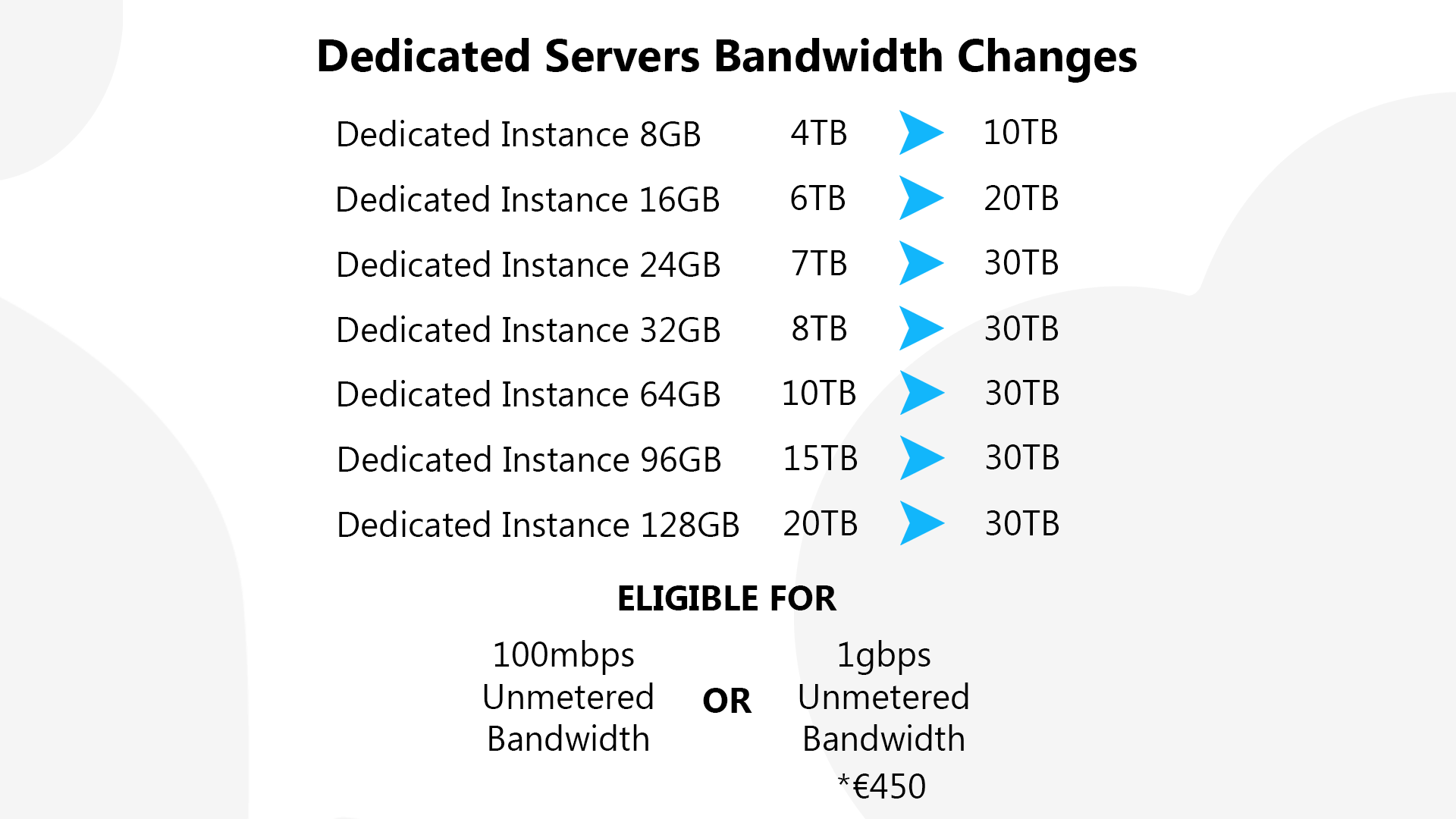 Our first plan is more than doubling - from 4 TB to 10 TB per month!
The same applies to our second plan, which is becoming more than triple times its size - going from 6 TB currently to 20 TB/mo!
Not only that, but our other 2 plans - 24GB & 32GB, are also getting an upgrade as they are both changing from 7 & 8 TB/mo respectively to now having 30 TB per month!
But wait, there is more! Similar to the aforementioned KVM VPS plans, you also have the chance to go for a 100mbps unmetered bandwidth option for your VDS as well! Moreover, you can also choose to get 1 gbps, fully unmetered monthly bandwidth for your server for an additional 450 EUR so that bandwidth will never be a problem for you!
Dedicated VPN server changes
Using a VPN to protect your privacy and personal data while being online is very important. We understand that bandwidth limitations can be a major problem that would prevent you from remaining connected to your VPN at all times. We want to address this issue appropriately so that you can have the best possible experience while also keeping you, your privacy and your information safe.
Keeping this in mind, we are delighted to announce that all of our dedicated VPN server plans are merging into 1 single plan with unlimited bandwidth so that you never have to worry about running out ever again!
We at VPSBG want the best for our customers and are always striving to excel at everything we do in order to provide you with the best possible service and overall experience. These newly implemented changes are a result of our passion for hosting and we sincerely hope that they reflect our determination and dedication to improve our products while also enabling you to have a fantastic time using them!