Introducing Dedicated VPN Servers
Deploy your own, self-hosted VPN server today and start protecting your privacy! Verifiable zero log policy, dedicated IP address and unlimited device connections!!
Seeing as issues related to online privacy and security are becoming more prevalent with each passing year, we at VPSBG are proud to introduce our newest service - Dedicated VPN Servers. The primary intention behind our new service is to put you - the user, in complete control over your anonymous online experience, while also protecting your privacy to the fullest extent.
But what makes our VPN services better than those of traditional providers? What do our dedicated servers really offer in terms of features and quality? Why should you consider switching to a private VPN server?
These are just a handful of the questions that we were constantly asked during the different stages of the service's development and we can't wait to share the answers! So without further ado, let's dive right into it!
What is a dedicated VPN server?
Each Dedicated VPN instance is installed on a separate VPS server and they are designed and developed to securely protect your privacy at all times while also allowing you to manage them as you see fit, hence why we refer to them as 'private'. Our VPN servers work in a similar fashion to all existing VPN service providers - routing your traffic and encrypting it through a special tunnel in order to preserve your privacy and anonymity from hackers, eavesdroppers, snoopers and even your internet service provider (ISP). Additionally, with our dedicated VPN servers you also gain the ability to access geo-restricted content as well as being able to bypass censorship restrictions, enabling you to express your opinion online and download files, which you otherwise might not be permitted to do from your current location.
What makes our dedicated VPN instances unique is that they strive to be substantially more secure, completely transparent and privacy-oriented while also granting you total independent control over their management.
How can a VPN server be private?
We are going to use a real-life example in order to illustrate what we mean by a VPN server being 'private'. Imagine going on a summer holiday to a very specific island out in the Pacific, where the beaches, the water and the cuisine are all exceptional and you cannot get them anywhere else. You book your tickets, board the plane and successfully arrive at the destination. You will also need a place to stay while visiting. You are in luck as the best hotel on the island has a fantastic room that you can reside in while on your holiday. However, there are a number of other families on vacation as well, meaning that the noise levels are constantly high and your privacy is vulnerable due to the large number of other visitors. Would it not be wonderful to have the entire accommodation just for yourself and not have to worry about others potentially interfering with your vacation?
Let's now shine some technical light onto this real-life example before you start daydreaming! Here is a basic rundown of the different subjects that we used in the example and their technological counterparts. The island that you want to visit for your holiday and its crystal clear waters, phenomenal food and sandy beaches all refer to the country or content that you want to gain access to. The hotel that you are staying in, is essentially the VPN server and the process of boarding the plane to arrive at the island refers to you establishing a successful connection to the VPN server. But how can other people interfere with your VPN connection?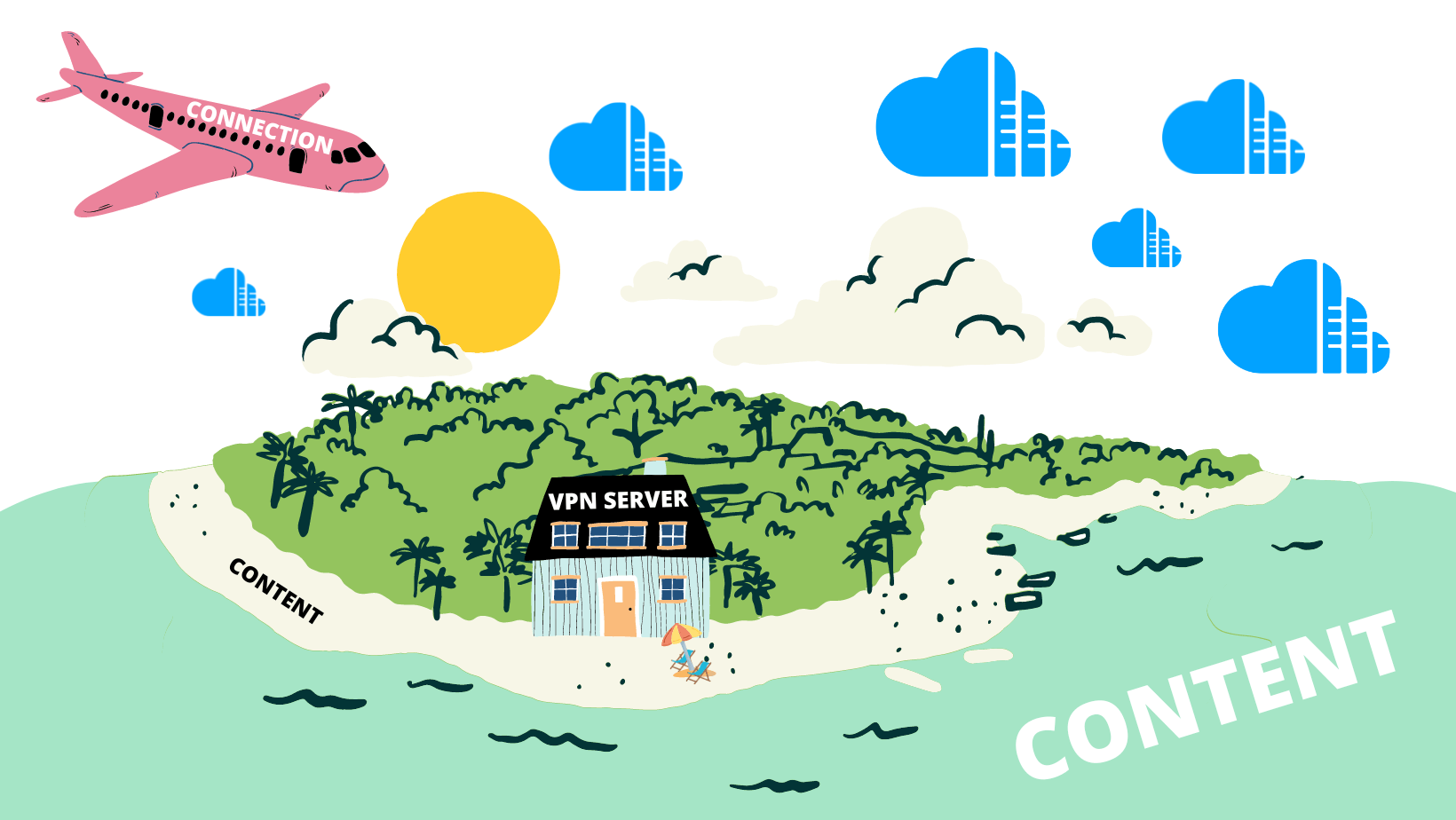 Traditional VPN service providers have servers all around the world and users can easily change the server that they are connected to in a matter of seconds. Additionally, it is quite common that most users share the same IP address when connecting to one of these servers. While this does, on the one hand, preserve their anonymity, making them practically untraceable due to the fact that many users operate from the same address, this does mean that if the IP address gets flagged for inappropriate and offensive actions or illegal conduct, all users' access will become restricted and in some cases, the address can even be permanently banned. It is not normal to have to suffer the consequences from other users' actions, especially if you are doing nothing wrong yourself but merely using the VPN service to gain access to streamed content for example.
However, with our private VPN servers, you get a personal, dedicated, static IP address that will be yours and yours only, meaning that you will not have to suffer the consequences and the impact that can come as a result of other users' actions and online activity (which in the aforementioned real-life example means that you will essentially buy the entire hotel just for yourself). This is a feature that most VPN services include as a premium add-on, requiring you to pay extra if you want to take advantage of it, whereas we at VPSBG believe that it should be readily-available. Because of this, we will provide your own dedicated IP address upon configuring your server.
Benefits of using VPSBG's private VPN servers over traditional providers
Having your own dedicated server comes with many additional advantages. The following are some of the more beneficial features of our dedicated VPS-powered VPN servers.
In comparison to some other providers, we offer you the ability to connect as many devices to your VPN server as you would like, as our service plans are defined by overall bandwidth usage in total and not the number of devices connected.
Additionally, you gain complete control over the entire VPN server so that you can manage its settings and operate it as you see fit. This allows you to track your own traffic as well as your activity (if you wish), making the process of protecting your privacy easier.
Our devoted team has spent numerous hours testing and checking the system, to ensure that the VPN server configuration, setup and deployment is as effortless as possible, allowing you to activate, install and run your service with just a few clicks in a matter of moments.
It is important to note that your first user profile will always be automatically generated so that you can immediately start using the VPN service. This means that you will not be required to log into your server or need to manually generate a new user profile from scratch unless you want to connect multiple devices or establish new users.
Moreover, you will receive all of your server and initial profile information along with your welcoming email, which will be sent to you when your service has been successfully activated.
Furthermore, there is a wide range of open-source VPN protocols that our service supports, meaning that you can choose the one that best fits your server. There is a suitable protocol for everyone, regardless of their technical experience or overall VPN knowledge. Our exceptional support team is also willing to help you with any potential issues that might arise in relation to the configuration, installation or management stages. If you have a question, just drop us a line and we will be more than ready to help you!
We also aim to be as transparent as possible when it comes to our VPN service. Therefore, we have decided that we are going to be making the code behind some of our scripts publicly available. We are intentionally doing this in order for you to be completely assured that the code, implemented by our private VPN servers, is legitimately and securely designed and unexploitable.
Additionally, as we already mentioned, we use only open source VPN protocols, meaning that their code is also available in the public domain. Being completely transparent and honest with our clients is important for us. We will always strive and aspire to provide the best possible experience for you - our users, as we are determined to not only meet but also surpass their expectations while being constantly vigilant in order to protect your privacy and anonymity.
To further support this, we have also issued a strong, secure and reliable 'Privacy & No-Logs' policy. We explicitly guarantee that we will never collect data or information about your online traffic, history or activities. To further prove our claims, we not only avoid using third-party cookies on our site, but also prohibit advertising in any form.
Finally, given that we fully respect your privacy and because we want to preserve your identity by helping you remain completely anonymous, you also have the opportunity to pay for your private VPN server using cryptocurrencies. While we do also accept payments made through the traditional payment options, we have been accepting Bitcoin as an alternative payment method for all of our services since 2014 and you can also pay through the Lightning Network. Not only that but we also accept Litecoin as well.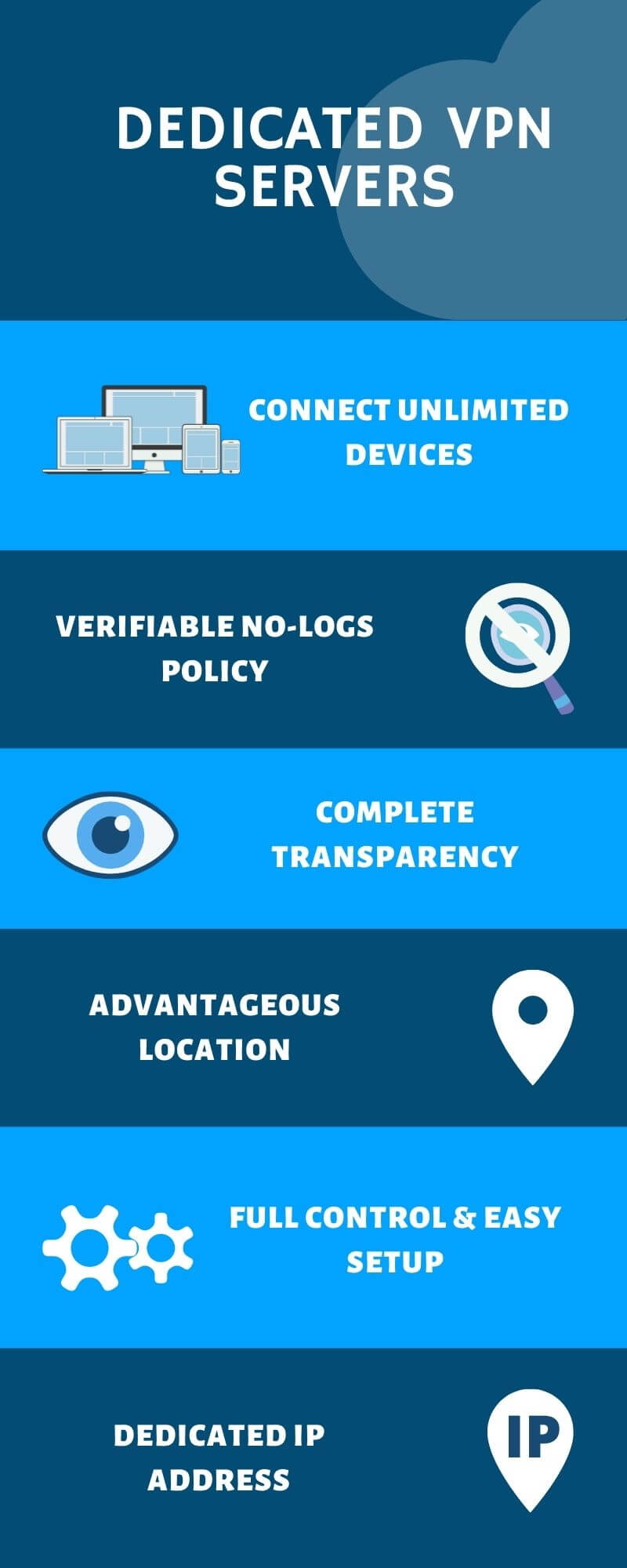 What tunneling protocols do our VPN servers use?
As of now, the protocols that can be used are OpenVPN, L2TP, SoftEther and WireGuard, which are all not only open-source, but also aim to ensure your maximum security by routing your traffic and preserving your identity. We are constantly monitoring these supported protocols and we are ready to immediately respond and undertake the required measures in the case of an exploit, error or malfunction surfacing.
This all sounds great, but how much does it cost?
Good question. We have 4 incredibly traffic-optimized, dedicated VPN server plans that you can choose from and there is something for everyone. Our first plan is ideal for individual use or small family circles, whereas our second plan is quite convenient for larger households and trusted groups.
Are you a business owner or large corporation? Our third and fourth plans will be the perfect fit for you if you need to encrypt and safely transfer data and information within your company.
The main difference between the plans is the amount of available monthly bandwidth that you will have at your disposal.
Surely there must be some drawbacks, right?
As we stated previously, we want to be as open and transparent as possible. Keeping that in mind, we do acknowledge that server location can be seen as a drawback by some users. Traditional VPN providers run many servers all across the globe, allowing you to change between each one in a matter of seconds. However, our private dedicated VPN servers are located in Eastern Europe, more specifically in the capital city of Bulgaria - Sofia. Sofia has a fantastic network coverage and connection reach as it plays host to many data centers for a variety of major European companies, services and businesses. In terms of law, DMCA is not in effect, however, Bulgarian legislation does apply.
That's all for now but if you want to get a more in-depth look at the technology behind our VPN servers or if you need some additional information you can always visit our carefully-crafted documentation as well as our blog entries.