Once you organize all documentation and operational processes, it is time for you to start working on the marketing strategy of your newly created business and how you will drive new clients and grow your company.
Marketing strategy
The marketing strategy is a key sales magnet for every online business. Creating such a strategy is complex and never comes easy. To create a successful and well-working strategy you need to analyse many aspects of the business such as data, competition on the market, users behaviour and last but not least - to know all marketing instruments well and to use them to implement the strategies that we gonna talk about in the following lines.
Content strategy
This strategy aims to determine the tone of the content it shares. The topics of conversation, the images, the voice of the company, the causes which the company stands for are all things that must be determined in advance. This is done in the early days when many decisions are taken. The reason for that is the communication to be homogeneous, no matter how many people work in the brand marketing team.

The content strategy includes all channels for communication such as:
Company's blogs

Social media channels

Business communication

Press releases

Communication with customers
Digital marketing funnels
Simply explained, the digital marketing funnels are the pathway of each customer journey to the conscious purchase decision. They are simple but not easy to create and impose in your channels.

Basically, the funnel is segmented into 3 parts:
TOFU - top of the funnel. Here people get to know about your brand and the products you offer.

MOFU - Middle of the funnel. Here people already have heard about the brand and start to realize the need for the product.

BOFU - Bottom of the funnel, people become customers of the brand and start recommending your services in the best scenario.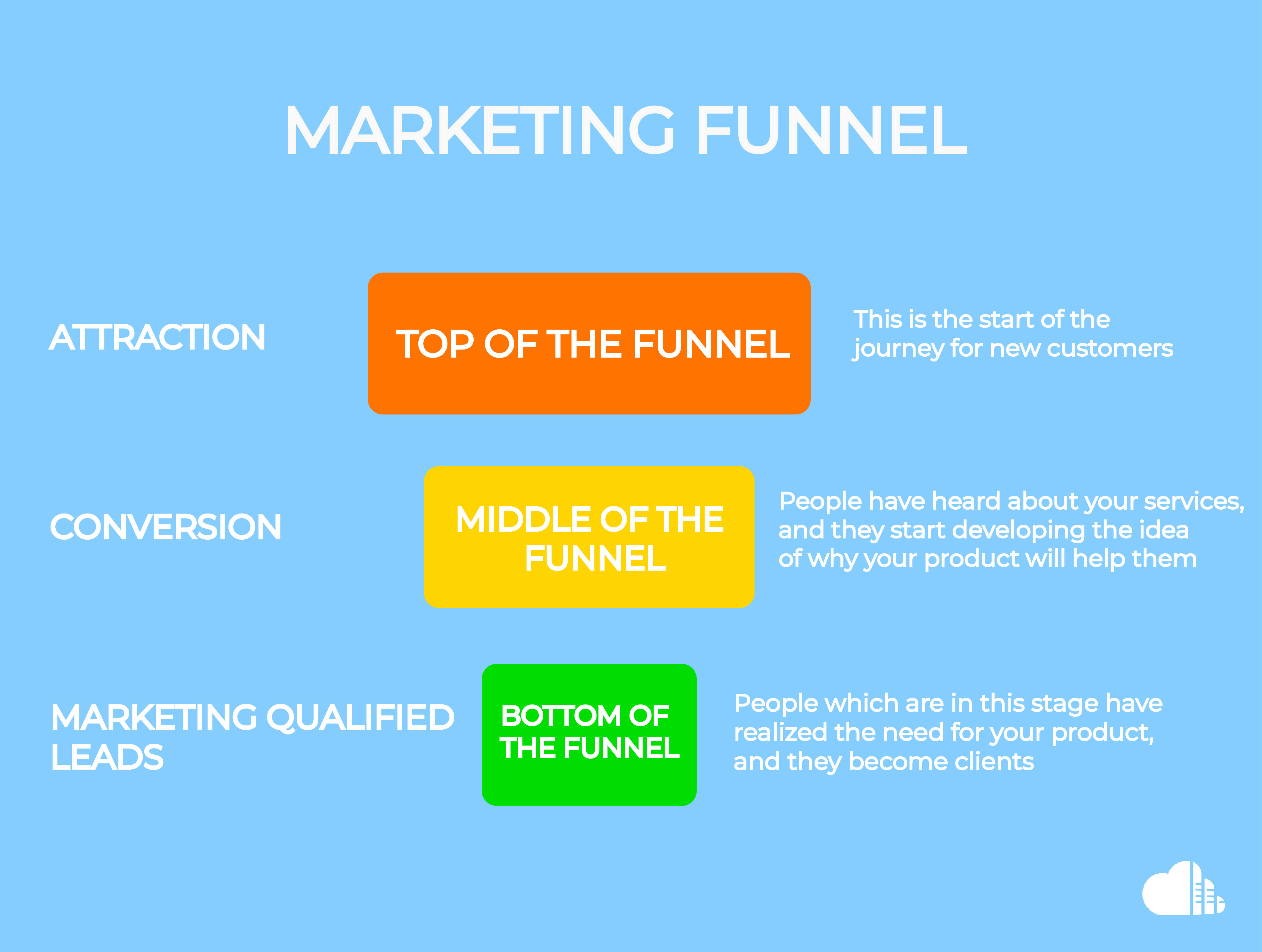 You can find more details in our article "How to write successful SEO optimized blog posts"


Content distribution channels
As in everything so far, you should make good research which are the content distribution channels that will serve best for the needs of your company. Which the audience interested in your services is and what kind of content they like are two very important questions you must find the answer for.

The channels that you can use for distributing your content are various. You can create and share content on your own website, most commonly in your blog, and then share this information on your social media. Using the power of popular media like magazines or news websites in your niche is something you should not underestimate. Having a well-known website perceived as an authority in your niche, writing something about your company or sharing content you created can be highly beneficial for a starting business.
Social media
Social media is a very powerful tool for communication. Different content is suitable for each social media, and you should know very well both - the kind of content which is used in the particular channel and what is the best content your public will engage with.

Whatever magical algorithm digital agencies are trying to sell you as the best approach for each of the channels, we will advise you to analyse the data and the user's behaviour as much as possible and adjust your strategies as per your users' needs! Getting to know your audience and communicating with them daily is important for engagement and trust in the company. Show the world how great your product is, what the values of your company are and turn your followers into clients. Then, if the service you offer is good enough you will notice how your customers become brand ambassadors and advocate for your business. This is the best advertisement which you can ever have!
Blogs in your niche
Apart from the social media channels, there are other ways to distribute your content and these are the topic blogs where experts in the field write about the latest trends in the niche and the people trust them and read their blogs often. Having such a website and sharing an article about your services can not only bring better awareness about your brand, but it can also provide you with a do-follow link from a website with high domain authority which can be good for the SEO of your website.
Media in your niche
Media websites can also help grow the awareness for your brand and services and work well for your company's reputation.
Partner network
The partner network is an important aspect for the faster growth of a newly established company. Having partners, who present your services and can assure your future customers that they trust you, can be of immense importance, especially in the beginning when no one knows the company.
Affiliates
Affiliate programmes are a popular way companies use them for advertising their businesses. People can be trusted much more than companies in most cases. This is why some individuals who have small websites or trusted and active members of communities can share information about your company, recommend you and offer a link with a discount.
Collaborations
Collaborations can be really helpful for the growth of each business. The opportunity for cross-channel communication between the two brands will easily grow the followers for each company's social media. This kind of partnership can increase the sales for both sides and will be a great way for people to get to know about a new brand or service.
Start measuring success
After you implement the right strategy and start distributing content, you should start measuring the performance of each of your channels. This information will help you to create better content, use the channels which work best for your business, and you will gather information about your customers that will help you get to know them better.
There are many tools on the market that you can use to track how your website performs. Some of them, such as Google Analytics, are very popular and powerful tools, but they use third-party cookies. The others are self-hosted, and they offer you and the visitors of your website better privacy. Read more about the self-hosted solutions on the market in our article "The best self-hosted website analytics tools".

Each social media has its own "Insights" where you can measure the growth of your network. Using this information you can have a better understanding of how to reach more customers.
Conclusion
You have probably heard many times that "Content is King". This is true when it is helpful, interesting and with added value. Each company should use their communication channels to reach their audience and communicate with them. Be smart and don't try to sell in any possible way. People will come to you when they realize they need your products and have trust in your brand! This can be achieved with time, work and proof that you as a company have values shared with those your customers have.