10 Things to Consider When You Buy Windows VPS
Do you wish you could have a powerful server with dedicated resources that can host your website, project or application without having to spend a ridiculous amount of money?
With a Windows VPS, you can get exactly that - a powerful and flexible server with dedicated resources, combined with the affordable nature of cloud hosting!
Due to the familiarity of users with the operating system, its easy to use and intuitive user interface Windows-based VPS servers have become a staple for many individuals that specialize in application and website hosting, game server setup and business enterprise systems operations. Because of this, Windows Server's popularity has increased substantially over the last couple of years, resulting in a rise in demand and prominence.
Today we're going to be covering everything you need to know before you buy a Windows VPS server from server hardware to customer support, pricing and even additional features that you could find useful at some point down the line.
So whether you're a beginner or a seasoned pro, we'll help you find the best Windows VPS for your needs!
Managed vs Unmanaged Windows Hosting
Before you consider anything else when it comes to buying a Windows VPS, you must first think about the type of hosting that you'd like to have. Generally, cloud hosting comes down to 2 different variants - managed and unmanaged.
Managed Windows hosting is a better option for those who don't have much (or any technical experience at all) in terms of operating a cloud server. With this particular type, the hosting provider offers you a server as a pre-packaged, pre-installed and pre-configured service that features different options such as easy application installations and constant support.
As we already mentioned, managed hosting is great for those that don't feel confident that they can run their server on their own as well as those who don't have the time or resources to spend on server management. While convenient, it is important to remember that managed Windows servers do come at a higher cost.
Unmanaged Windows hosting, on the other hand, is the exact opposite. You get a cloud VPS with a Windows Server installation and you are free to do anything you want! You can install different applications and configure your server to your liking! You can do practically anything - from turning it into your own private VPN with the help of an open-source VPN protocol to developing and deploying web applications!
But while unmanaged hosting comes with a lot of customization capabilities, it does require you to know a thing or two about Windows Server management, which is why it is generally preferred by seasoned veterans and people with better experience in the industry. Additionally, it is also the cheaper option when compared to managed Windows VPS servers because of the fact that the hosting provider doesn't need to spend their resources on managing your server.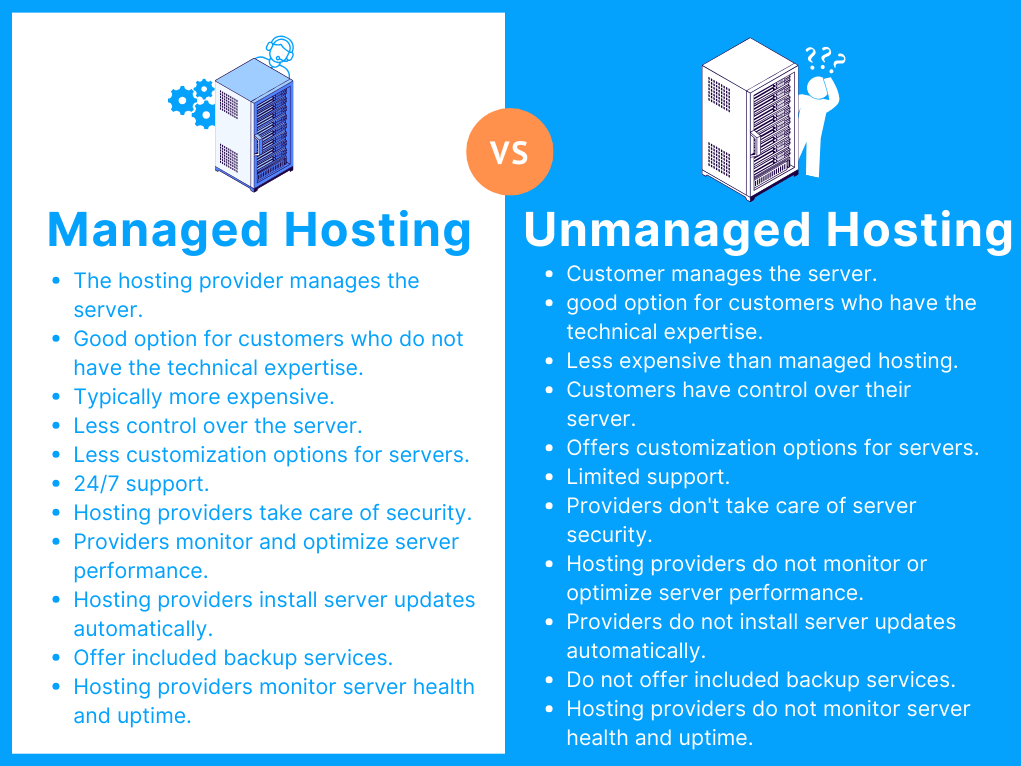 Better Server Hardware = More Performance
The next thing that you need to be wary of before buying a Windows VPS is of course the hardware and more specifically the CPU, RAM and storage medium.
When it comes to the processor, you need to make sure that the CPU of the server you choose will be powerful enough to run your websites or applications. In general a better CPU will guarantee you better performance, which will result in faster render times for your projects. From a customer perspective, this is quite beneficial, allowing users to start performing actions immediately after the page loads rather than having to wait additionally for elements and interactive components to display on the page before it can become fully operational. Examples of such projects also include e-commerce websites, recommendation systems and content streaming platforms.
A better CPU also ensures faster processing times, which can be exceptionally helpful if you plan on utilizing a Windows VPS for any AI or algorithm development as well as for creating systems that require a lot of data manipulation.
Although important, the CPU is not the only thing that you should be focusing on because the storage medium also plays a pivotal role when it comes to your Windows cloud server.
When looking to buy a Windows VPS, make sure that the provider that you have selected can offer you SSD storage rather than HDD. In general, SSDs are much faster compared to hard-disk storage and can store and retrieve data at a phenomenal rate.
Additionally, you could also consider looking for a provider that utilizes the NVMe protocol. NVMe SSDs can perform read/write queries at lightning-fast speed, making them the absolute top choice if you are going to be utilizing your Windows server for any large-scale projects that require a lot of data processing such as the development of an ecommerce store or the creation of machine learning algorithms as we mentioned before.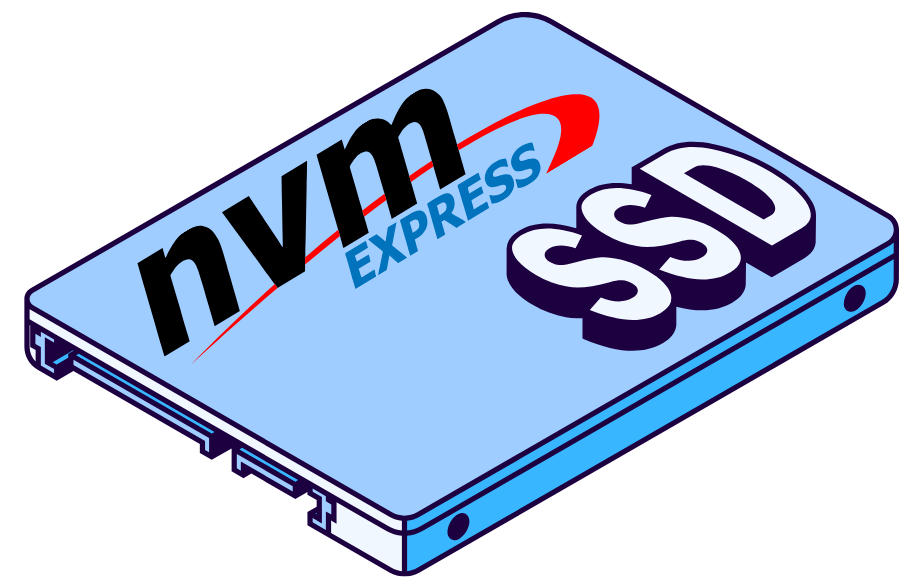 Our Windows VPS servers for example utilize the latest AMD EPYC CPUs which are some of the most powerful chips on the market! AMD EPYC processors also implement SEV technology which acts as an additional security layer between the hypervisor and the virtual machines, encrypting the data at a hardware level. Additionally, our Windows cloud servers are also built with NVMe SSDs, which offer incredible speed and a substantial performance increase!
Fast & Redundant Network With Great Connectivity
Since we have already covered server hardware, the next thing that you need to be mindful of before buying a Windows VPS is the hosting provider's network capabilities and connectivity.
While this might not sound that important, at a first glance, in comparison to other factors such as price and customer support competence, you need to do your research on network connectivity in advance unless you want to be stuck with a cheap server with excellent hardware that lacks in terms of connection speed.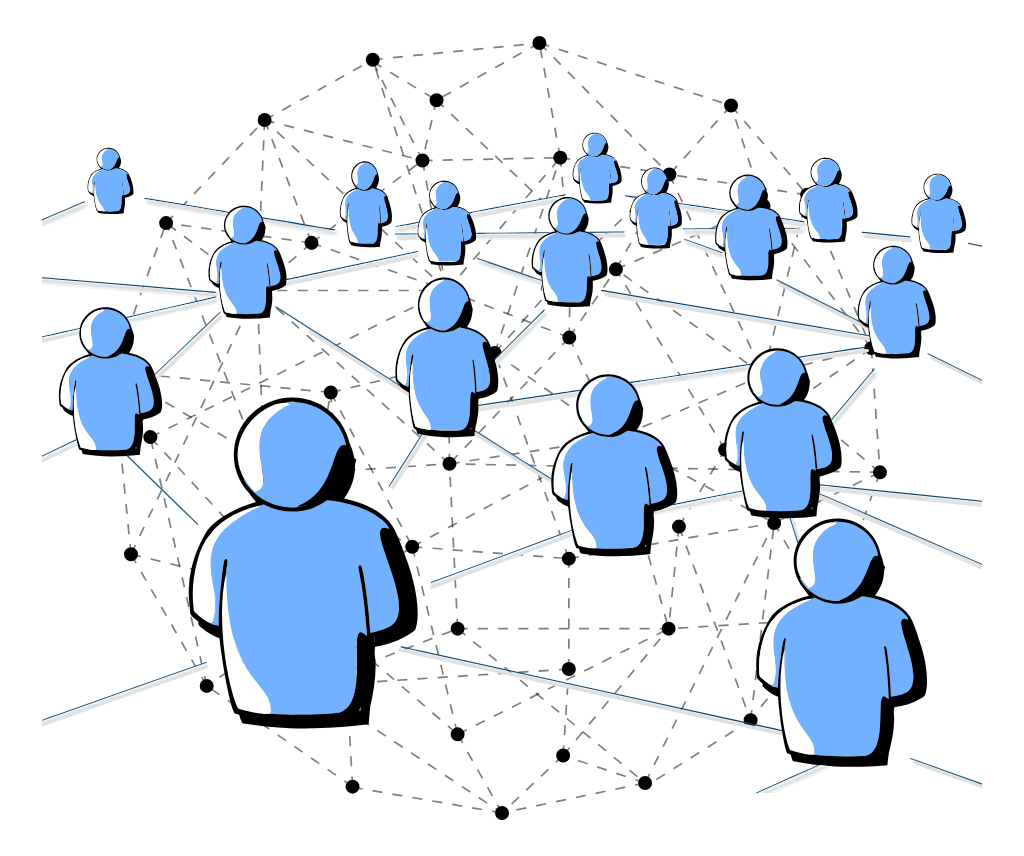 But why is the network so important? If you are going to be running a global business or you want to have a worldwide presence, it is crucial to find a Windows VPS that has great network connectivity. While the Internet has progressed substantially over the last decades in terms of speed, you still need to have a good connection in order to be able to serve content overseas or across continents as efficiently as possible.
A slow connection speed can result in slower loading times and delays after user inputs or interactions, which can consequently result in a higher bounce rate, which is not good if you want to make sales and conversions.
This will also impact your performance when it comes to search engines as loading speed and page rendering are some of the key factors web crawlers take into consideration when evaluating a web page.
In addition to great connectivity, you should also look for a provider that can offer full network redundancy. But what does this mean? A fully redundant network provides multiple routes for traffic to flow through through a backup network. This is extremely helpful if there is a system failure or hardware issue as the traffic can simply go through the backup paths, which results in less downtime and more efficiency.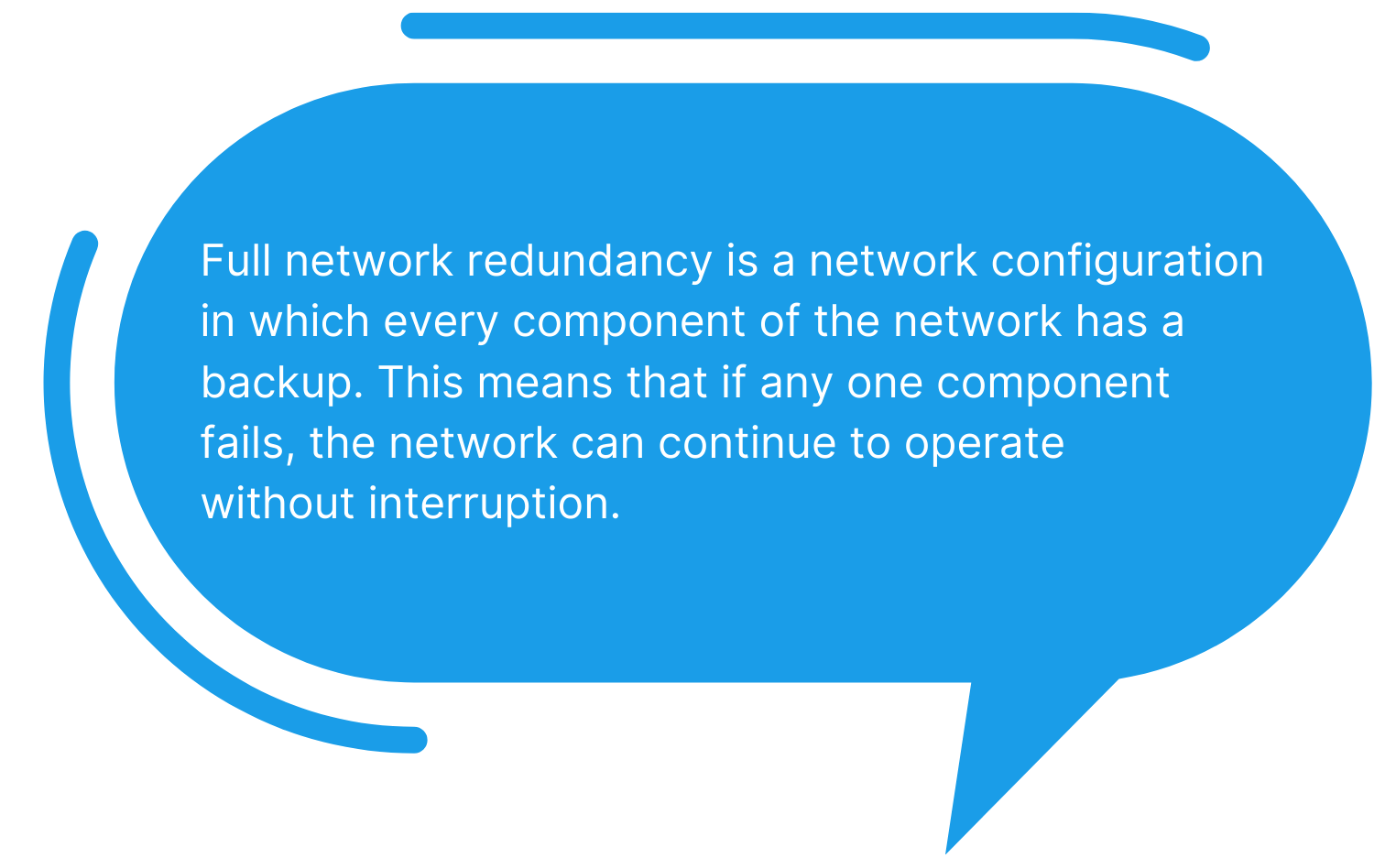 Our hosting infrastructure for example has fantastic network coverage, being connected to some of the largest Internet exchange points globally. Our network is also fully redundant, offering 10 Gbps on each node.
Server Price & How It's Calculated
Once you have done your research on both server hardware and network speed for your selected hosting providers, you need to start comparing prices. Now that you know what to look for, you should be mindful of the fact that sometimes more expensive doesn't mean better, but you should also know that making a compromise for a cheaper service might also give you a lot of trouble. You might also see a dramatic difference between the prices of some hosting providers. But don't worry, there is a logical explanation behind this!
Windows Server as an operating system requires you to purchase a license in order to use it.
Some providers that are official Microsoft SPLA partners like us at VPSBG, can offer you the option of buying the license along with the server directly from them, which is not only convenient, but also saves setup time and extra money as such partners usually offer the license for less than if you were to buy it directly from Microsoft. These providers often include the price of the license in the server total, which is why you might see a high variation in the pricing.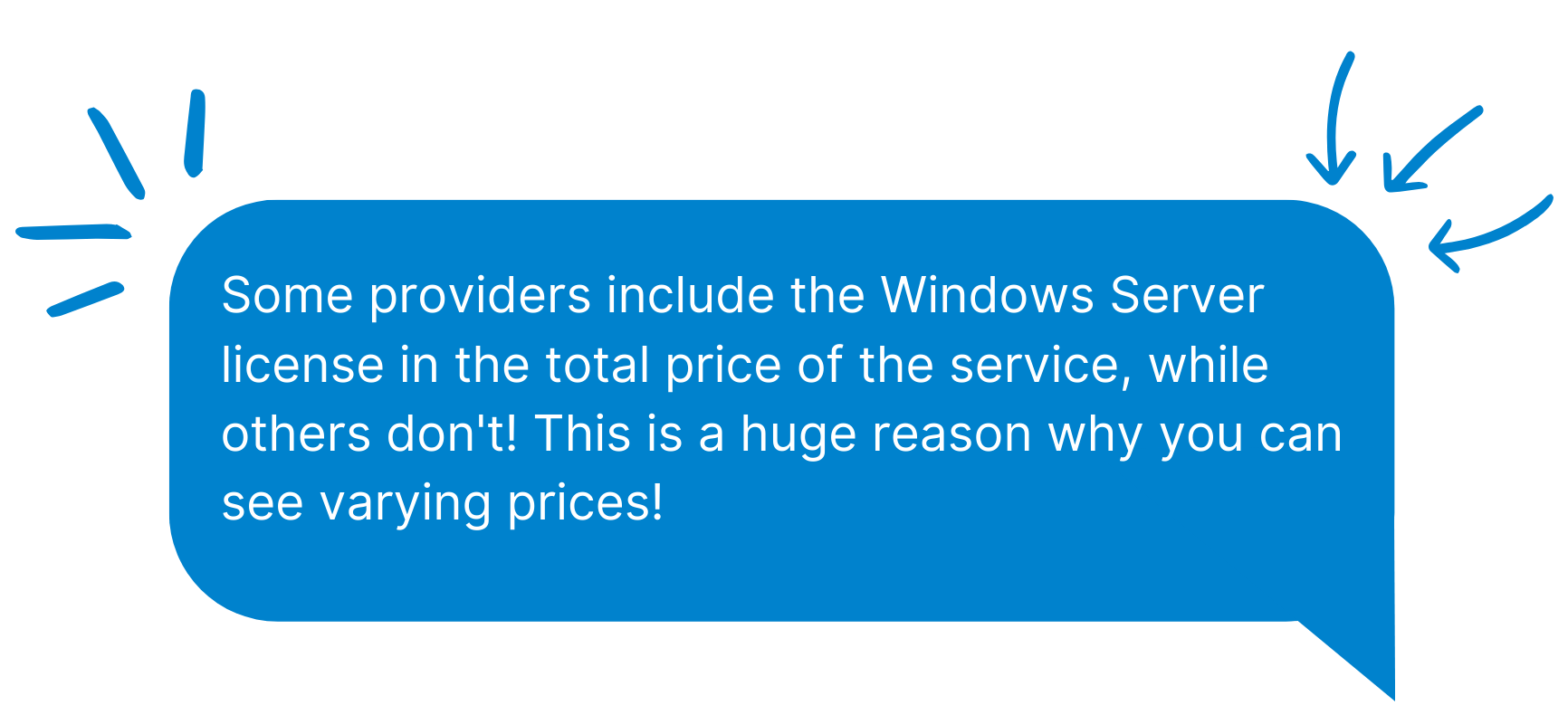 Others don't include the license cost in the overall total while some might not even offer you the option of buying a VPS server with Windows Server, requiring you to have to purchase the license by yourself and install the OS on your own.
This does have its own benefits, though, as you can move your license around multiple servers or even between providers, should you not want to stick with one in particular. Although flexible, you need to have some technical experience or follow a tutorial on how to install Windows Server on a VPS.
Consider The Billing Period & Any Discounts
Another reason why you might see a great difference in certain providers' pricing is the fact that they might have an ongoing promotion where they are giving out larger discounts for a specific service such as a Windows VPS. You should always be on the lookout for such promotions as they can save you a lot of money in the long run.
Another important thing to consider if you wish to save some cash is to select a longer billing cycle. Providers usually give out substantial discounts on servers that you purchase for a longer period of time.
For example, we at VPSBG offer 30% off on Windows VPS servers when you get an annual subscription and even more - 35% for a 2-year plan. This allows you to save more than a third of the price if you were to pay for your server on a monthly basis!

Payment Methods & Alternatives
Another factor that gets overlooked before you buy a Windows VPS is the payment methods that your selected provider accepts.
While you might think that this is rather irrelevant, you might have to consider it if you are going to be making monthly international transactions.
For example, bank payments overseas can charge quite a lot for currency conversion in addition to the exceptionally high transaction rates. On the other hand, payment methods like PayPal might not always be the most reliable (in addition to also having high exchange rates for larger sums).
One solution that can help you save money is to look for a provider that accepts cryptocurrencies as an alternative payment method. While there are a substantial amount of currencies on the market, Bitcoin remains the top choice for many due to the speed, privacy-protection and lower transaction fees when making an international payment.
Buying a Windows VPS with crypto also allows you to remain completely anonymous as the transaction involves sending a set amount of BTC from one address to another and has no personal information attached, which is great for your privacy.
There are also other advantages when paying with Bitcoin such as the fact that the currency is also decentralized, meaning that it is not regulated by an institution, which results in it being a stable alternative payment method.
Finally, making BTC transactions is also really easy, requiring nothing more than an Internet connection and a device that can operate with a digital wallet.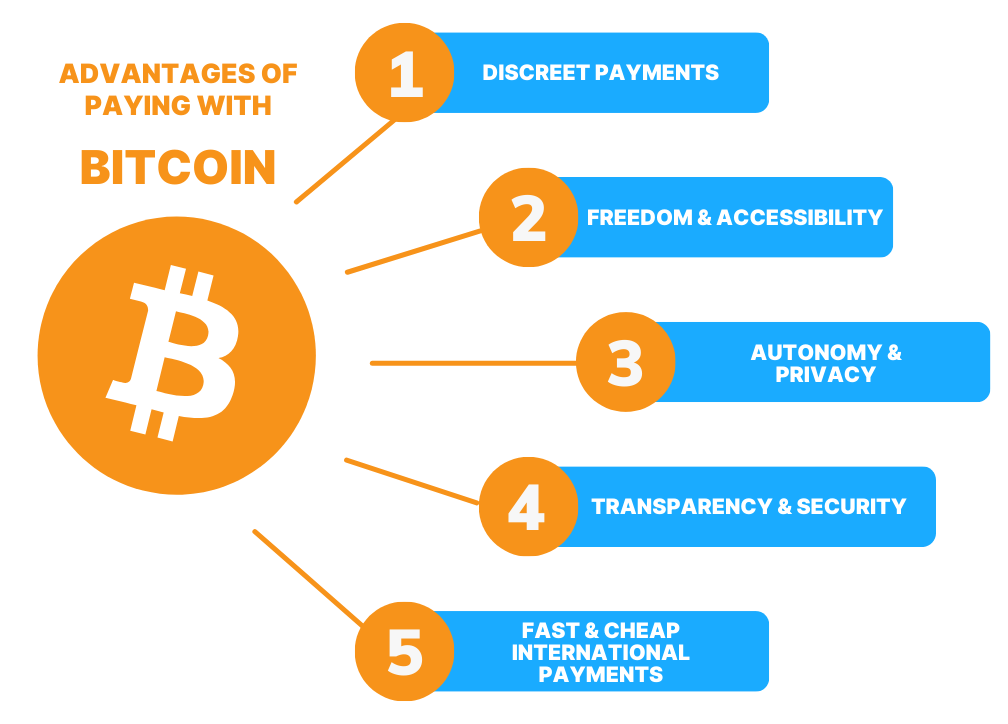 We at VPSBG have been accepting Bitcoin payments since 2014, being one of the first in Europe to do so. Additionally, we also have our own personal BYC payment processing implementation in order to further protect our customers' privacy.
Reliability & Uptime - Important When You Buy Windows VPS
Next up on the list is reliability or what most people like to call uptime. Generally, an uptime of 100% is practically impossible due to the fact that all cloud infrastructures need to be updated or taken down for maintenance.
Given that there are many individual virtual servers running on one physical instance when it comes to cloud hosting, it is possible that the entire system might be taken down for a few minutes in order to perform maintenance. Sometimes this could also be due to outside factors such as a major DDoS or hacker attack.
While most of these factors are out of your reach, you could try looking for a provider that offers an uptime that is as close as possible to those fabled 100%. In most cases, the uptime ranges between 99.5% and 99.9% so make sure you also take that into consideration.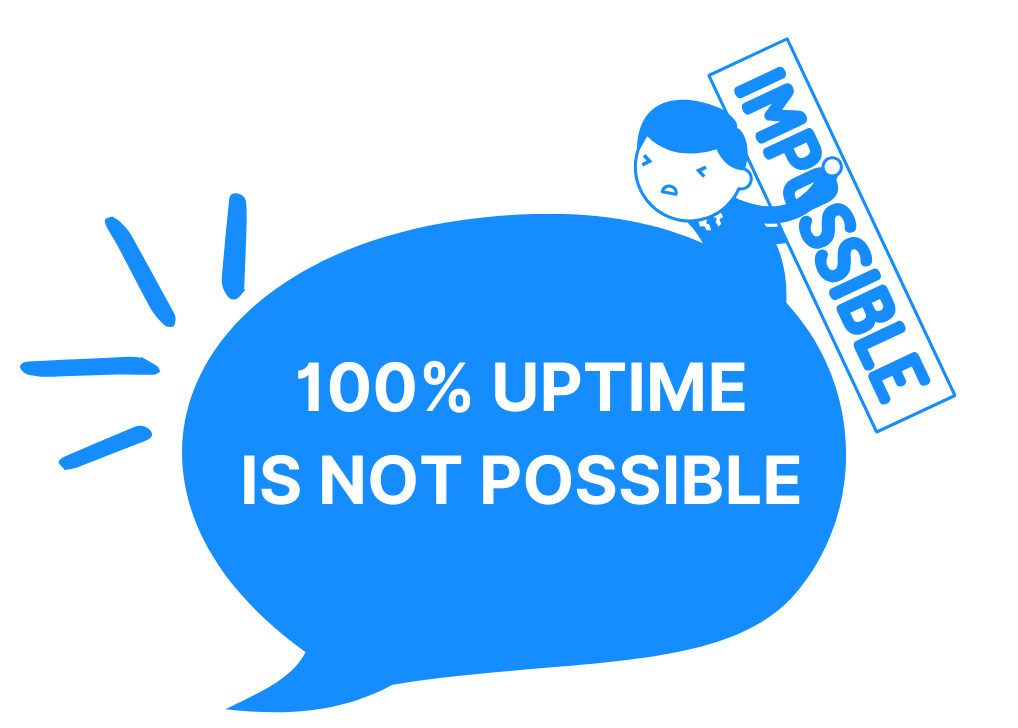 Customer Support - Response Time & Competence
The other crucial thing that you need to take into consideration before you buy a Windows VPS is the responsiveness, timeliness and overall expertise of the customer support of the hosting provider that you select.
This is important as there will be a lot of times where you will need to contact customer support, especially if you go for unmanaged hosting. This is because each hosting provider has a different infrastructure and does things in a different way, which can result in a lot of initial confusion during the learning period even for experienced users.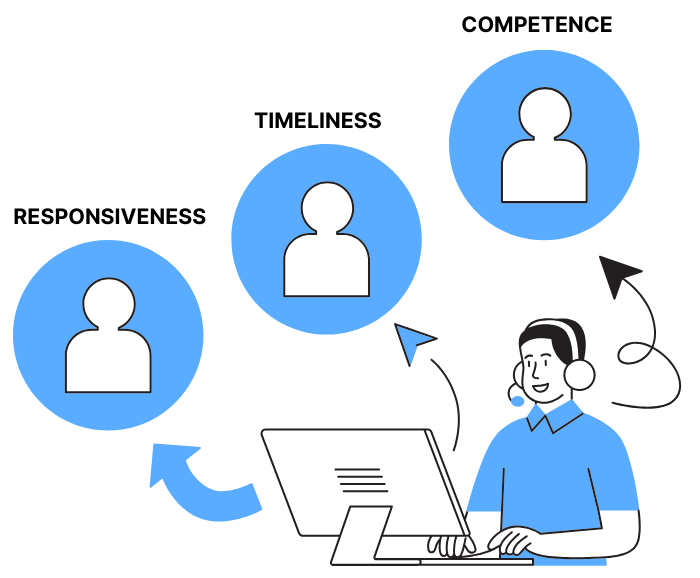 Also, there will be times when you will need a quick answer or a quick fix for your Windows cloud server. In such situations fast support response times are going to be of great importance so make sure to carefully think about this as well when you buy a Windows VPS. Their expertise is also going to be valuable, as you'd much rather have someone that can help you fix an issue, answer your question or point you in a direction by giving you a link to a useful resource somewhere on the website.
Privacy & Security
One of the last few features that you could look for before you buy a Windows VPS is to check whether your selected provider offers any further privacy protection. We at VPSBG for example don't use any third party cookies anywhere across our website and we also don't run any ads or action tracking software in order to further protect our customers' privacy.
As mentioned before, we also accept crypto payments as an alternative transaction method and we also have our own crypto payment processing implementation, to further enhance user privacy.
Additional Features
Finally, most providers will also offer a range of different additional features (or add-ons) for your Windows VPS server. While some of them might not be of use to you now, it is important to know what your provider can offer you as you could use them in the future in order to save you time and resources while also boosting your productivity.
DDoS protection
DDoS protection is a technology that is used to protect your Windows VPS server from denial-of-service attacks. In their essence, DDoS attacks are malicious, generated requests (or artificial traffic) that are designed to overwhelm your server and force it to stop operating.
DDoS protection works by filtering out such fake traffic before it reaches your server, ensuring an uninterrupted server workflow, by minimizing and mitigating any downtime.
Floating IPs
A floating IP is a dynamic IP address which can be assigned to any server or virtual machine in a given network. Floating IPs are a great tool that can also be used to prevent any downtime, enabling you to quickly switch your hosted website or application to it in case of a server failure or any other issues.
Snapshots & Backups
Server snapshots and backups are a very common add-on amongst Windows hosting providers, with most offering them either for free or at a very low price.
Snapshots and backups are crucial when it comes to protecting your server's data, allowing you to roll-back your system to a previous moment or version.
This can not only help with development and testing but can also save your website or app if there are server issues. Due to their versatility, you will definitely need to look into utilizing them.
Unlimited Bandwidth
Unmetered traffic is the perfect option for your Windows VPS server if you have a website or application that needs to operate with a large volume of bandwidth. Windows servers with this particular add-on are a great option for content streaming as well as for managing large amounts of data or user requests that are modified concurrently.
Extra storage
Additional SSD space is also a good additional feature to invest in especially if you are going to be running a website or app that requires a lot of storage.
Examples of such projects include ecommerce stores, galleries, AI algorithms and datasets, recommendation systems, portfolios and anything else that has to do with images or a large number of files.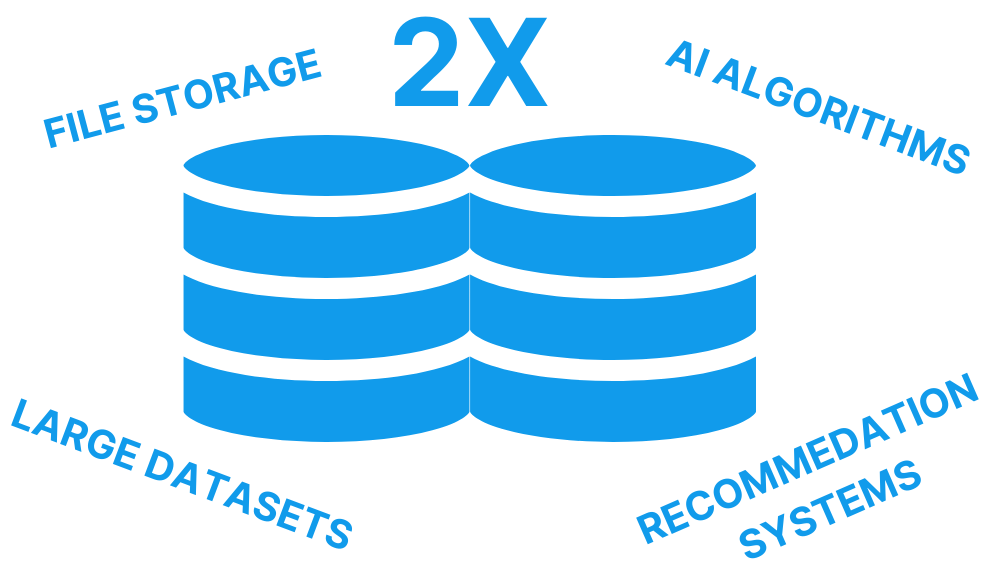 Extra Microsoft Licenses
Finally, when you buy a Windows VPS there are also some additional Microsoft products that you could potentially look into. For example, if you wish to have remote desktop access to your server as well as user authentication encryption, you could go for a RDP license.
Additionally, if you wish to manage, create and operate files on your server, you could be more interested in getting a Microsoft Office license. Both are extremely useful and can be used in different situations, allowing you to save time and resources while also improving your efficiency and productivity.
Overall, these are just some of the most important things that you need to consider before you buy a Windows VPS. Ultimately, your choice of a Windows cloud server will come down to your needs and requirements, but regardless of your final decision make sure you think about all of the factors and features that we mentioned so that you can get the most out of your server and your hosting provider!